ARMED forces personnel aged 16-64 are statistically more likely than the general public to suffer from both physical and mental health problems that limit their abilities.
Twenty four percent of veterans in this age bracket are likely to report a long-term illness that limit their activities compared to thirteen percent of the general population of the same age.
The reported illnesses that members of the forces community are more likely to suffer from include: anxiety, PTSD and depression, as well as a number of physical problems and diabetes.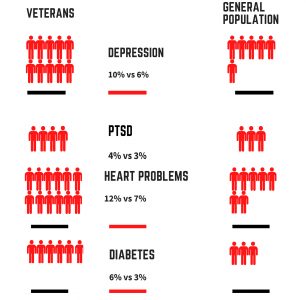 Mr AJ Gritt MBE, the Clinical and Service Lead for Armed Forces Health and Welfare in Dorset spoke about the struggles that veterans face after leaving the forces including: "the loss of your peer group, rank, trust, pride, honour and duty, as well as the struggle to settle into new environments."
In the first two years after leaving the service, younger veterans are at high risk of suicide with former personnel also being vulnerable to: social exclusion, homelessness and involvement in the criminal justice system.
In Dorset there are an estimated 59,000 armed forces members, 46% are under the age of 75, with around half of them residing in Poole and Bournemouth.
In 2011 the Ministry of Defence published that 1,128 people in Bournemouth and 1,695 people in Poole have received some form of armed forces pension or compensation for injuries caused due to service in the armed forces.
You don't just leave your job, you leave your mates behind and your family
Mr Gritt said: "you don't just leave your job, you leave your mates behind and your family."
Read More Here:
https://buzz.bournemouth.ac.uk/?p=330248&preview=true&preview_id=330248
https://buzz.bournemouth.ac.uk/?p=330257&preview=true&preview_id=330257