Founded in 2019, Bournemouth's new reggae festival has a lot to offer the local community.
"It's a fusion that hasn't happened here before, that's why VP Records was interested", organiser Raymond Nyenje said on being contacted by the biggest independent reggae label in the world.
Now, VP records have reached out to work with the festival in Kings Park.
The festival is being organised by the non-profit radio station Afro*Disiac.
Hoping for restrictions to lift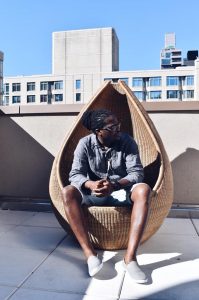 Nyenje hopes that restrictions will lift by summer so locals can experience a multicultural festival with a community feel.
This will include a VP record shop, cultural dancers and food, poets and reggae music.
There will also be a funfair and kids show.
The organisers have created an NHS day to honour 'local NHS heroes'.
All proceedings made on this day will go to Bournemouth Hospital Charity.
Too big for Kings Park
"The response was so big the council freaked out", Nyenje said about the initial interest for the festival.
The organisers had expected around 500 guests but were as surprised as the council when 6000 people showed interest on Facebook in 2019.
The number of guests and the current pandemic has meant the organisers had to replan the past year.
"The numbers are not as important, but the execution really is.
"We don't want people to think that they have to travel outside Bournemouth to get this experience", Nyenje said.
The event is set to take place on 3rd and 4th July.