In the last five years, over 163 youth clubs have been closed by local councils. Local youth club ' Middle Park Youth Centre' in South-east London, Greenwich, Eltham are still doing everything they can to help their community.
In Lewisham and Greenwich, there are a high number of low-income families and 1 in 3 children are living in a low-income household.
Youth clubs provide important spaces for young people in low-income households to go to and spend time, which in some cases, steers them away from making bad life choices.
There have been significant cuts in funding for these youth clubs.
Many that have stayed open have struggled to provide better facilities for young people to guide them away from crime and help them stay focused on making positive choices.
The provision of support for low-income communities has remained available despite the circumstances, acting as a vital hub for young people to access financial or personal help.
Middle Park Youth Centre in Eltham, South-East London has been running for 20 years. The hub provides sports, music and other activities for young people, usually on Thursday and Friday evenings.
Scott Guichard is the Youth Coordinator at Middle Park, and he works closely with the children on a weekly basis.
Scott is well-known in the community as he plays for YouTube football team SE DONS, who also help local young people.
Coming from a similar background to many of the young people he works with, Scott is able to connect with them on a personal level.
The Youth Coordinator sees youth clubs as a place that provide opportunity and focus for young people.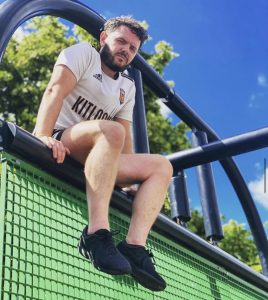 Scott said: "Our youth club has given some of our young people the confidence, resilience and determination to make a better future for themselves."
Scott added: "This isn't done overnight and takes a lot of hours building close relationships with our staff members, to give us the chance to point them in the right direction with the full support, whether that be at home, in school or their private life."
Like many youth clubs, funding is an issue at Scott's organisation, and recently covid-19 circumstances forced Middle Park to close until further notice.
Scott said: "Due to coronavirus our youth club has been on hold since the beginning of 2020. Funding has also dramatically dropped which is a major key to us maintaining this service."
Despite these setbacks, Middle Park has partnered with food banks and for the past four years have been working with Marks & Spencer, which has proved to be very beneficial.
Staff at Middle Park collect almost all of the food that is past it's sell-by date or in broken packaging, up to three times a week.
The food is then distributed to parents, carers and the elderly using their services for families in need.
Middle Park Youth Centre plans to open its doors again during the summer, depending on the government guidelines.