Relegation and Covid-19 cost Watford Football Club more than £90million according to the club's own figures.
The pandemic has taken a toll on the world of football with the removal of fans attending games as a result.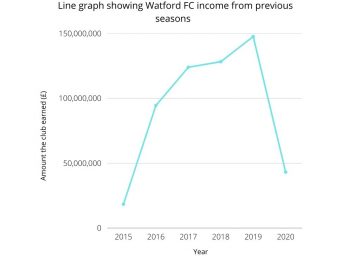 Watford Football Club in particular has not only just had the difficulties of the coronavirus pandemic, but also with relegation.
The Hornets played in the Premier League for the past five years until relegation in July 2020.
Paul O'Brien, the commercial director at Watford FC, looks after any income which comes into the club.
He said: "In our opinion, without making any excuses, relegation wouldn't have happened if it wasn't for Covid-19. We were just getting ourselves in order when Covid-19 came around and stopped the season.
"Unfortunately, our head coaching got really poorly over that lockdown period so we had a big effect really on that."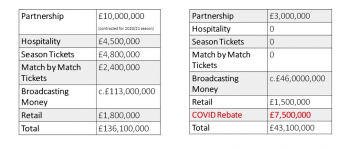 The tables above show how the club's income has changed over the past 12 months with the pandemic and relegation.
The team had beaten champions Liverpool before the pandemic brought the season to an end.
No one saw this coming"
O'Brien said: "For years and years, we have been preparing ourselves for what happens when the broadcasting money comes down but we never considered what would happen if we didn't have crowds for a year and why would we, no one saw this coming."
Although the biggest effect is not having attendances in the stadium, the club also has an outsource agreement with caterers which have struggled financially.
"They have lost a lot of money on the contract so we've been trying to help them out there.  It's really hurt relationships because no one wants to lose that much money like what they're losing at the moment."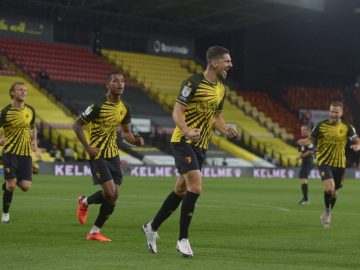 With fans being unable to attend games, O'Brien explained: "There have been no crowds apart from the 6,000 people who were lucky enough to come see our two games so we've had to move everything online.
"We had to be a lot smarter so we've really upped our content pieces. With our partners we've created a TV show so people can watch the games which has become very successful."
The Hornets Hive Show offers fans exclusive pre-match content which O'Brien said has been time-consuming but also a success.
2020 has brought many challenges for the Hornets and O'Brien expressed that he didn't expect the pandemic to last this long.
Some clubs sold season tickets last year to bring in money and help cash flow, however Watford FC didn't.
The Hornets didn't give out streaming passes or sell season tickets last year.
Many people decided to keep their money in the bank instead of getting refunds when offered.
O'Brien added: "As long as we get five or six more games we should be able to sort out all of the refunds from last season but what I'd like to do is wipe all of it out for next year so we are hitting the ground running next year and I think that's where we differ from other people and that's something I'm really pleased about.
"There's already conversation going on now about a passport which people can get. I'm really hopeful we can have near to a full crowd for next season, especially with the vaccine. By the end of next season, we should be completely back to normal with the vaccination."
Read more from Buzz here: