Blue sky and golden sunshine was the backdrop for the protesters as they began to gather at 2.30pm. The climate reflected the climate activists. It reflected how most of them felt: as though, with hope, a better future is on the horizon. All those present had a real passion for positive change, an infectious, warm energy despite the chilly breeze.
The Global Day of Action on 6 November coincided with the middle weekend of COP26 held in Glasgow, Scotland. Rallies and marches took place all over the UK (one of 28 countries set to see events) with costumes of endangered species, poignant posters and empowering chants. One of the towns taking part was Bournemouth. Being a coastal town with a great reliance on tourism and the area's natural beauty, an estimated 200 people attended to raise awareness for the demand for societal changes.
Groups including Extinction Rebellion, Tearfund, Greenpeace and the Socialist Worker Student Society were all there to show their support.
"The youth is the voice," one protester exclaimed. "These aren't Instagram people, these are united people."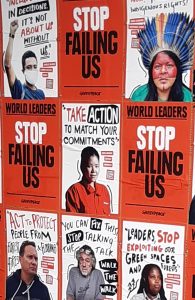 The Activists' Opinions
There's a danger in pinning the blame for climate change exclusively on governments, wealthy businesses and corporate figures but the crowd understood that they have to adopt the eco-conscious lifestyle they expect of others. As Mr Michael French, founder of Grounded Community said: "We need to be willing to put our money where our mouth is – walk a different path."
Ms Natalie Gorman from Bournemouth Sea Dippers said: "I feel really let down by our MPs." She added that councils need to take "real action". The group go swimming every day at 7am and, due to global warming, has even spotted seals and dolphins off the coast of Boscombe in the last year.
The Christian charity Tearfund are advocates for equality and frequently attend events such as climate change rallies. Their yellow, heart-shaped signs read: 'Act justly, love mercy, walk humbly – Micah 6:8'. Ms Linda Emery, a volunteer, highlighted the importance of stewardship in Christianity with a reference to Genesis 2:15.
The March Begins
At 3.45pm the march began, following a diverted loop through the Lower Gardens and bus stops to avoid the setting-up of the nearby ice rink and Christmas market.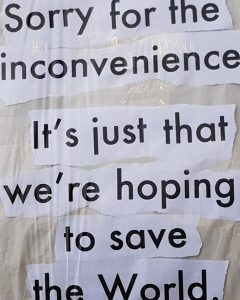 Upon returning to the flyover, Cllr Felicity Rice made a speech and accused BCP council of inactivity. However, BCP Council has set a target of 2050 to make Bournemouth, Christchurch and Poole carbon neutral. Back in December of 2019, a 153-point plan was also laid out.
In addition to this, many companies have made a climate crisis plan of their own, one such company being Wessex Water.
Another councillor, Mr Andy Hadley, praised the CEO of Unilever, Mr Alan Jope, who he said was exemplary in comparison to other company executives.
Will COP26's Discussions Work?
Undoubtedly global discussions are paramount to turning the climate crisis around although there was a strong feeling of discontent among the protesters. As remarked by a Greenpeace representative (dressed in a humorous tiger onesie), they were experiencing déjà vu from 2015's Paris agreements. Will the COP26 goals be met? Are these targets too flimsy? Will we keep the global temperature rise to under 1.5°C? Only time will tell.
For more information on BCP Council's previous list of sustainability pledges, follow this link:
News Article (bcpcouncil.gov.uk)