Barlcays have announced plans to exit Barclays House, Wimborne Road, in Poole by the end of the year.
The building currently staffs 700 employees.
This departure will see the majority of colleagues being relocated to new office premises at The Helm, Holdenhurst Road, in Bournemouth.
Other roles will be relocated bringing teams closer together helping to drive future collaboration at our UK sites.
Tim Greenslade, owner of Greenslade Fish, said: "For us, we get most of our business at lunchtime. People come in for snacks, have a look around and get bits for their dinner.
"Whether they will come in, I suppose they are still working from home so they still might be able to come in.
"I really don't know, we will have to wait and see.
"Around the area it is going to make Poole look like a ghost town."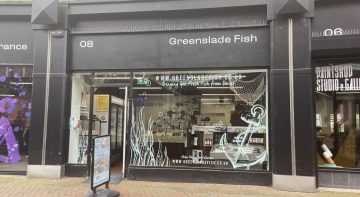 How will this move affect local businesses?
Beverley Craig, owner of Bev's Cafe in the Dolphin Centre, says she will lose nearly half of her business because of this.
She said: "I will lose 40% of my business due to takeaways with Barclays closing down, which is a massive impact.
"We have struggled anyway throughout lockdown and now we have got this as well.
"I think for the Dolphin Centre, in general, it's not good.
"They would come over, have their lunch and a shop around. That's going to be a big impact on retail.
"It's a little bit concerning."
A market stall runner on Poole High Street said this move will not affect him.
He said: "I am not that concerned because I am only here one morning a week, my customers are regulars and they are older.
"I don't really see many people from Barclays, not that I know of."
A Barclays spokesperson said: "These changes enable us to innovate at pace for the customers and clients we serve.
"We will do everything we can to support colleagues impacted by the changes announced, including supporting redeployment where possible and working closely with Unite."
As of yet, no decision had been made with regards to the future or disposal of Barclays House.