Deep in the Bournemouth gardens, 200 rescued exotic birds reside within the free-to-enter aviary. However, the birds no longer live there due to the construction of a new aviary. Development began in September 2021 with the goal of late January, early February 2022 for completion.
Why was the re-opening postponed?
The plans were postponed due to an increase in bird flu cases across the country. The current government order is that all bird owners must house captive birds to prevent contact with wild birds. This means that these tropical birds are currently being kept at the homes of the aviary's experienced volunteers. 
Councillor Mark Anderson, BCP Council Portfolio Holder for Environment and Place commented:
"Work on the new Bournemouth Aviary is progressing well. Avon Contractors Ltd are due to complete their work on the aviary at the end of February. Once they finish, our Parks team will then install the flight cage landscaping and the volunteers will move in all the sundry equipment.
"Obviously Avian flu is a concern, but we're continuing to follow strict biosecurity measures to help limit the spread of the disease. We hope to be able to re-open the Aviary at the end of March, subject to being allowed to move the birds into their new home by then.
"Bournemouth Aviary is a fantastic free attraction in the centre of Bournemouth. I'm already looking forward to visiting it and seeing the birds flourish in their new home."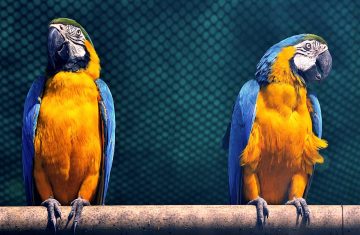 Cathi Farrer, Chief Executive of The Parks Foundation said:
"We can't wait to see the opening of The Cooper-Thompson Rescue Aviary in Bournemouth Gardens in spring."
"There's still time to donate to us to raise the final monies needed for the landscaping and its fixtures, as well as for the ongoing cost of bird food, water, heating and cleaning materials needed by the volunteers."