A charity shop in Bournemouth has moved location due to increased popularity. 
Staffie and Stray Rescue has moved from Wimbourne Road to Eastbrook Row in Wimborne. 
The shop needed to upgrade the size of its store due to more people using their services. 
Manager Sophie Vye said: "During COVID we have had a massive increase in dogs needing our help, and with us being here a community has been built up with regular custom. 
"The shop here is really small. It has been difficult in terms of storage and keeping the shop clean and tidy meaning that we have now outgrown this shop. 
"We all love it here, but the time has come to move on." 
The move means the charity can have more storage as well as more stock on the shelves, which will allow more money to roll in for the dogs.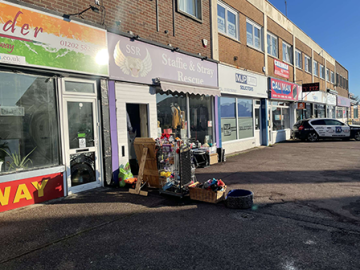 Ms Vye added: "Everybody is talking about the move and is very excited. 
"We hope it will be a great success. We're excited for people to join us and see what the shop is all about." 
Staffie and Stray Rescue, which was founded in 2014 by Calli Byrne, rehabilitates and rehouses dogs, in particular Staffordshire bull terroirs, across the south.  
The shop uses recycled materials for the shelves, creating what Ms Vye describes as a "rustic feel". 
Staffie and Stray Rescue's new shop will open on Monday. 
The lockdowns during the COVID-19 pandemic meant thousands of dogs could be left abandoned.  
Dogs Trust estimates up to 40,000 dogs could be left abandoned or stray as people who bought puppies during lockdown struggle to look after them.