The Council asked people's views on the 11 key actions in the Bus Service Improvement Plan (BSIP), and to bring forward any ideas they might have.
Nikki Honer, Head of Communication at Go South Coast, highlighted the positive impact of the scheme. She said: "We are in a climate disaster. We know we have got to change many of our actions.
"My goal is that by working together with BCP Council we can get people to really start to think differently about local journeys."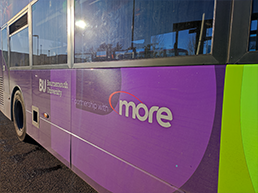 This improvement plan will take place in Bournemouth, Poole and Christchurch alongside the local bus service operators, such as More Bus, the local Bournemouth and Poole bus transport service.
The next steps the BCP Council will undertake are to finalise the Enhanced Partnership Plan (EP Plan), the Enhanced Partnership Scheme (EP Scheme), and complete a further short consultation with statutory consultancies.
Have you got any questions? Just email busstrategy@bcpcouncil.gov.uk.