Nuffield Health's proposed plans to relocate one of their hospitals to Highmoor Farm has been met with opposition.
The planned development of the new private hospital has received resistance from Preserve Talbot Heath, an online conservationist society.
The facebook page, which now has over 1,200 members, has lobbied the proposals and has called out the parties involved for "deliberately lowballing the biodiversity in the area".
Nick Dobbs, the lead member of Preserve Talbot Heath Facebook group said: "The biodiversity in Talbot Heath is extraordinarily rich, and Highmoor Farm plays a pivotal part in this.
"Our aims as an online movement is preserving this biodiversity and leaving a better legacy.
"These developments are cashflow motivated and the Talbot Village Trust is deliberately lowballing the biodiversity in the area. The vast array of wildlife must be protected.
"The environmental impact of the 1,780 new employees commuting to the hospital as well as the clients driving to their appointments will have detrimental effects on the biodiversity.
"It will utterly pale in significance to the current footfall of visits to Highmoor Farm. The new facility will wipe out the biodiversity all together".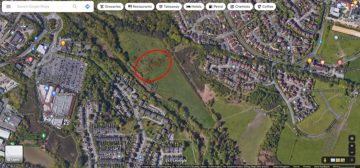 Nick is the Lead Membership Development Office at Woodland Trust. He is also a naturalist and volunteer licensed herpetologist.
BCP councillor David Kelsey said: "Any new hospital facility is always welcome, but they equally have to be in the right area.
"Its not just about a piece of farmland, it is about an infrastructure model that will affect the whole of the area."
Nuffield Health have claimed that the proposed hospital is part of a new "innovation quarter".
The exchanging of contracts between Nuffield Health and the Talbot Village Trust is said to be at an advanced stage.
A Nuffield Health spokesperson said: "We have been looking at potential sites for a new hospital in the area for many years, due to the increasing need for more facilities in the area.
"However, is it only recently that this particular site has become a realistic option and discussions commenced as a result.
"The local community's healthcare needs are changing so we want to evolve our hospital services, which is why we believe a potential new hospital to replace our existing hospital will better serve the community".