Around 20 volunteers, armed with gloves and litter pickers, flocked to the coastline to join in one of the first litter picks of the year.
The clean, organised by the Coacoara Foundation, managed to collect hundreds of pieces of litter from Sandbank beach in an hour and a half, despite the cold and wet weather.
One of Coacoara's ambassadors, Natalie Hansen, said:
""It's not cool to litter. It's sad to see people still do, that but we're just trying to raise awareness and not shame people as such but encourage people to not do it."
The Coacoara Foundation aims to remove single-use plastics from households and has been running beach cleans for about two years. For the last six months, they have met fortnightly to clean beaches.
Natalie added: "When you go to the supermarket, it's quite common to buy products with lots of plastic and they end up on the beaches so we're just trying to do litter picks and raise awareness to reduce plastics."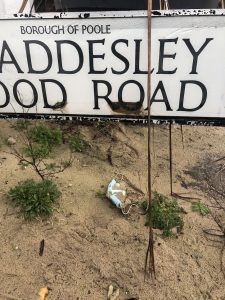 Common Finds
Liam Ulla, the founder of the Coacoara Foundation told BUzz news that in the summer, volunteers collect upwards of 40 bags of litter. He also revealed that numbers of volunteers rocket in the summer months due to the elevated need for litter picks following the summer beach rush.
Some of the most common items found at the beach clean included disposable masks, bits of plastic, polystyrene, rope and string.
According to the data from The Marine Conservation Society Big British Beach Clean 2021, 32% of UK beaches cleaned found 'personal protective equipment' litter.
Natalie expects to find regular items but also come across classic and quirky finds.
"Cigarette buts are unfortunately one of the biggest bits we pick up. We also pick up a lot of plastic cups.
"Some quirky ones we picked up today were sunglasses, a frisbee, a recycling bin lid, a kite, some balls".
Dropping Figures
The same data collected by MCS revealed the most common items found on UK beaches are bits of plastic and polystyrene and cigarette butts.
Despite seeing a decrease in the amount of rubbish found on our beaches, litter remains a problem.
Bournemouth, Christchurch and Poole Council says it spends around £1/2 million on cleaning beaches each year and introduced the 'Leave Only Footprints' Campaign in 2021 to help keep the coastlines clean.
Looking to the future
Natalie told BUzz news she hopes others are inspired to look after their local beaches: "We hope, especially the younger generation, to be aware when they go to the beach.
"Personally, I always take a plastic bag with me and would tell a friend if they were littering, we can do better than that.
"If people want to do beach cleans on their own time, anything helps".
To find out when the next local beach clean is, visit Coacoara's Instagram page.