Bournemouth artist Chris Small is leaving a big impression on the boxing world. The 39 year old has seen the likes of Oscar de la Hoya, Canelo Alvarez and, of course, Chris Billam Smith presented with his portraits of them.
Prior to 2019, however, art was an adventure Chris had explored no further than his GCSEs some two decades beforehand. It was fateful intervention from his wife that saw him pick up the pencil again.
"I've got to credit my wife," Chris said, "she had started watching Portrait of the Artist of the Year and a couple of artists happened to use a particular technique where they used a grid to help with perspective. I'd drawn some Disney characters in the past for nieces and nephews but that was very irregular: I saw this technique and thought 'you know what, that makes a lot of sense to my mind, I'm going to give it a go."
It was in November 2019 that Chris, once a Students' Union director, got his 'big break' when Bournemouth's Chris Billam Smith defeated Craig Glover to claim the vacant Commonwealth title.
"I watched Chris Billam Smith and I thought I'd try and merge the streams before boxing and art. I tapped him up and just told him I'd love to do a sketch to commemorate his win and within about five days I'd managed to get it done around the day job and he was round the house posing for photos with it!"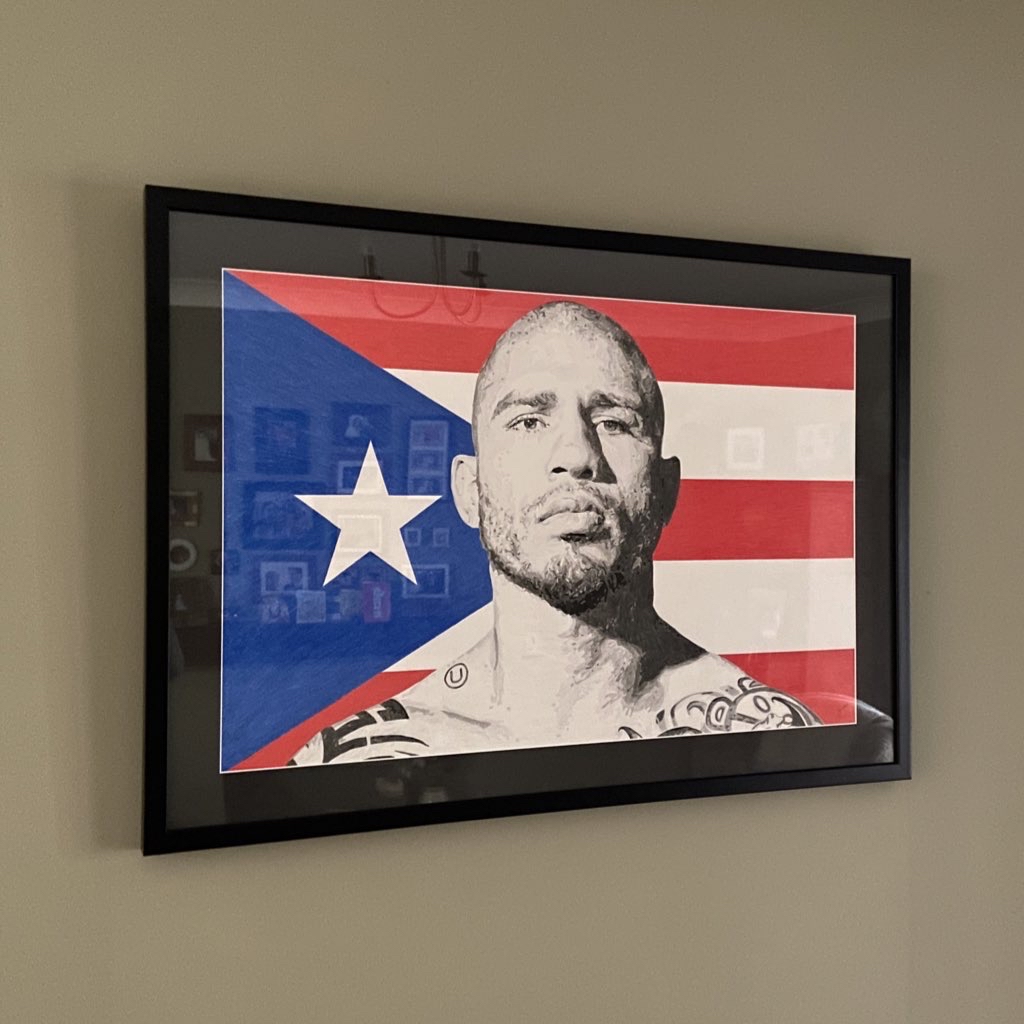 Having now made the decision to make art his full-time career, Chris said he had to 'remain professional' but admitted even he got a bit giddy when the likes of Oscar de la Hoya were pictured with one of his sketches.
"It's cool, yeah, it's really cool. I 100% feel like a fanboy when that happens. There's been a couple of times where I've woken up to messages from boxers over in America but the problem is the time difference – there's such a small window to engage with them.
"I really liked the Miguel Cotto sketch: it was a traditional portrait, flag in the background, but it was my first work on A1. I did a Lennox Lewis commission and I like how the black and white sort of  changes the depth of the piece depending on how close you are to the piece"
Whilst there's a part of Chris that wishes he had picked up the pencil earlier on in his life – often referring to "learning in reverse" – his story perfectly captures that little bit of magic that only boxing can provide.
"I'm not trained in any way so I suppose there's an element of it coming naturally but I think I learnt earlier on that the blacks and grays of sketching were probably a safe haven for me. Early on some of the colour combinations just weren't working for me and, I guess, I've got quite a mathematical style so, to be honest, I'm not sure if it did come naturally.
"If you'd have told me 20 years ago I'd be a professional artist then I'd have laughed at you but it's pretty cool, actually."