Veganuary is a non-profit organisation that encourages people to adopt a vegan diet during January with many in the UK expected to participate. 
  The campaign includes sharing information about veganism and plant-based products through social media.  
  Veganuary shared on their website that "the current way we produce food is highly inefficient, unsustainable and won't allow us to feed a growing global population.  
  "That is why we advocate a change towards more plant-based alternatives and ultimately, a vegan world," it reads.  
  Ronak Farhadi, a caseworker at nationwide, has been vegan since 2016 and has felt the health benefits.  
"A standard vegan diet in my opinion is far better than other diets, however this is purely personal and just because I thrive off of a vegan diet doesn't mean that everyone else is," she said.  
 "It's just good to be mindful about where you get all the nutrients you need from foods, the same way I'd encourage a non-vegan person to do the same".  
 Veganuary aims to educate people about a plant-based lifestyle without the pressure of permanent change.  
 "It is a great way to introduce a plant-based diet in the life of a person who eats otherwise," says Farhadi.  
 Veganism has grown rapidly in the last few years, with most UK supermarkets and brands introducing extensive vegan ranges.  
 Farhadi lists a few options available such as Tesco's 'Plant Chef', Sainsbury's' 'Plant Pioneers', Asda's 'Plant Based' ranges.  
 There are endless amounts of options ranging from ready-made meals to desserts and even confectionary.  
 Veganism isn't always accessible to everyone due to socioeconomics. 
 Miss Farhadi said that "if it is in the best interest and within the affordability of a person to live on a non-vegan diet (therefore likely buying less fresh produce) then so be it! 
 "There should never be an expectation, pressure, or guilt placed upon anyone if they cannot afford a particular lifestyle even if they wish to. 
 "My personal advice is to scope it out and to try it if a person wants to for any reason that they may resonate, but don't feel pressured or guilty if unable to stick with it," she says.  
Mark Lewis, the owner of Sunrise Organics, a whole-food shop on St. Micheal's road, which was the first all vegan store in Bournemouth.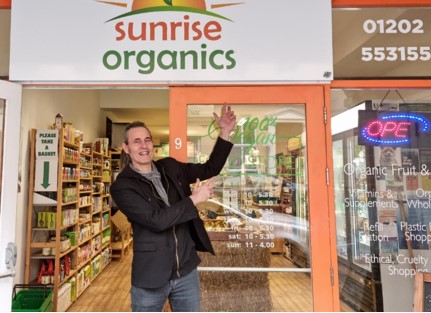 "We do promote and support Veganuary but we don't get as many inquires about it anymore as it's so much more mainstream. There's a lot more information available than there used to be," he says.
Lewis believes that Bournemouth does "extremely well" in terms of plant based options.
"Considering the size of the town we are really well represented for vegan options- having a large student population especially helps."
 Veganuary expect that by the end of January 2022, the movement will exceed two million participants.