The 'Ugandan Cherries' are one step closer to reaching their Denmark cup dream. 
Bournemouth Academy Uganda, a football team within an orphanage in Uganda, has purchased the 26 passports needed to play at the Dana Cup in Hjorring, Denmark. 
But the team are waiting on the Ugandan authorities to give the passports as well as further funding from the public to allow the team to participate. 
"If we can do this it will be life-changing for them," said Steve Butler, who has helped bring funds and fame to the team.  
"To get them a passport in the first place will give them freedom and a key to many doors." 
Mr Butler, 69, a retired property surveyor from Derby who moved to Ferndown during his youth, came across the team on social media. He said: "I saw a tweet from team coach Kizza Joshua saying he was a big AFC Bournemouth fans and asked for some supporters to send kit over. I thought I'd try and send some, and soon some donations started coming in. 
"We sent off the kit in a suitcase then a few months later they had their shirts. 
One image that caught Steve's eye was of an orphan who instead of a shirt had former player Steve Cook's name written on his back with a biro: "It was horrible, we had to do something." 
Bournemouth Academy Uganda is a football team set up within an orphanage in the African town of Bugembe in eastern Uganda. Uganda is one of the poorest countries in the world, with 41 per cent of its people living in poverty. Almost half of Uganda's population is under the age of 15 – so places such as Ibun Primary School have a lot of children in need. 
Mr Butler set up a GoFundMe page to help raise the £25,190 needed for return flights to Denmark, passports, visas and entrance fees to the Dana Cup. So far £6,715 has been raised. 
He expressed his gratitude to the hundreds of people who have already donated their money: "I want to say a massive thank you to everybody who has donated and supported.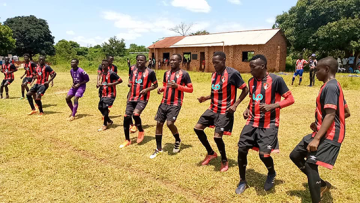 "We've got to now concentrate on the future. What I would like is a company in the locality, who may support Bournemouth, to come on board and help us." 
He added it was "humbling" so many people have donated so far and is hopeful that once the passports finally arrive for the team more donations will come through and their dream to take part in the Dana Cup will come true. 
Coach Kizza Joshua is a volunteer at the orphanage. Aged 29, he previously was an orphan himself and wanted to help disadvantaged children. It is a goal of his for his team to compete at the Dana Cup.  
He said: "We are very excited and it will be the biggest achievement for our academy.
"It is going to be my success story.
"[The orphans] have a love and passion for football and most of them are looking at football as their future – even the girls."
The team train every morning and evening, and if they go to Denmark, it will be the first time Mr Joshua and the orphans have been outside of Uganda.