Victims are making life-changing decisions like ending their careers to avoid perpetrators.
One July evening, eight years ago, *Jane Stevens decided to quit her dream job in the newsroom. Her decision was not due to a lack of interest or passion for the job.
Her shocking decision resulted from the sexual abuse she regularly encountered while at the office. As a result, Jane struggled financially as her job was her only source of income. She remembers the pressures of needing to get stories – the only way to do so was through the obedience of the sexual advancements of her colleagues.
It was like hell, so I had to quit."
"When I started facing moves from them, and they wanted to use me, I refused. But then I would no longer get coverage, and I would not get paid," said Jane. She revealed she used to sit and cry due to the "difficult and challenging" situations she would often find herself in. "It was like hell, so I had to quit," she added.
Female journalists in Sierra Leone would instead leave their jobs and risk financial issues than work alongside their perpetrators. Like Jane, *Sarah Smith had made the same decision to leave the newsroom. The decision was because she had "no one to fight for her". She explained: " I did not feel good. I felt useless, and I could not sleep. I would experience flashbacks regularly.
"Even when he would just pass me or say something, I would start crying and go within myself. Why, with all our colleagues around, it was only me? What have I done?"
Sarah's feelings towards her assault are not isolated. According to RAINN, sexual violence survivors often experience sleep deprivation, flashbacks, anxiety, and depression. This makes it valuable to have access to support services to provide victims emotional and psychological help.
Even with the support systems and laws within Sierra Leone, sexual assault is still widespread. For instance, the Rainbo Initiative had reported 1,522 cases of sexual assault between January and July 2021.
The founder of Women and Girls Protective Services, Kadiatu Throlley, suggested that the country's high rates of sexual assault are normalised. She said: "It is seen as normal or something that should not be taken seriously. It is not alarming or even important because it is so normal." Newsrooms can then reflect these societal values.
Sierra Leone had 1,522 cases of sexual assault between January and July 2021
Gender-based violence researcher for Equality Now, Jean-Paul Murunga, has spent the past 10 years assessing the values deep-rooted in countries and their influence on sexual violence.
He explained: "One thing that is running across is that there is this aspect in many communities where we have worked in, that people do not believe that men and women are equal.
"So, to an extent, it can manifest itself in forms of some of the gender-based violence or sexual violations we witness." He also suggested that the view of women and girls as "powerless" and "lacking opportunities" factors into this greatly.
The values and norms Mr Murunga suggested reflect on continental newsrooms. In 2017, Women in News found 10% of female journalists were sexually assaulted. Another 24% had been sexually harassed. Though, this is a symptom of a broader scale problem.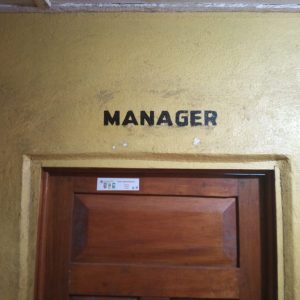 Sexual assault affects journalists in newsrooms and in the field on a global scale. A 2021 study by Reporters Without Borders found that 58% of gender-based violence happens within the newsroom. A further 51% of the perpetrators are journalists' superiors, and 46% are their colleagues.
With many perpetrators in authority positions, it can make it difficult for female journalists to come forward. So, journalists like Jane and Sarah will leave their place of work instead of reporting the incident. The president of the Sierra Leone Association of Journalists (SLAJ), Ahmed Sahid Nasralla, said: "In most cases, it is superiors who take advantage of their high-level positions to make inappropriate advances on female colleagues in the newsroom, and they almost always usually go free.
58% of gender-based violence happens within the newsroom.
"It makes me feel worried. I believe superiors should serve as an example of the moral standard that is required in the newsroom to give confidence to all workers, especially female colleagues, to be able to do their work in a free and secure environment."
In recent months there has been some movement in improving the situation for female journalists. SLAJ suggested creating support groups to ensure female journalists feel safe and would like to set up training programs to spot sexual violence in newsrooms. They also want to encourage media houses to have specialists policies.
Two of the country's female journalist's groups, Women in the Media Sierra Leone (WIMSAL) and Sierra Leones Association of Women in Journalism (SLAWJ), are already assessing and improving guidelines.
Millicent Kargbo, the president of SLAWJ may take this assessment a step further. She explained: "Our safeguarding policy is general and specific to female journalists. This could be something we will consider in the future as we continue to build our structures."
Men talking, men engaging in the matter is one thing we need to do to tackle the situation."
Specialist guidelines to spot sexual assault could be one solution in helping women come forward. The advancements and progress of female journalist campaigning groups and national associations could positively change the newsroom consent crisis. However, with the norms and values assisting gender-based violence, these belief systems need to unravel.
Spreading awareness of these issues and improving guidelines is just the start. Without addressing the root causes of sexual violence, generations of journalists could still be subjected to abuse, even with adequate procedures in place.
In an initiative to lower the sexual assault cases, Hannah Bockiere, the director of Commit and Act, suggests a better approach to dealing with the perpetrators. She said: "We need a 'men engaging men' approach. Men are commonly the perpetrators, so we need to focus our attention on them because they need help. It's not normal for men to do these things.
"We need to create a space for them to talk to them about this and engage with them. Men talking, men engaging in the matter is one thing we need to do to tackle the situation."
If you have been affected by rape, sexual abuse, or anything you have read, you can reach out to a helpline to receive specialist support. Please click HERE to access support.
*Some names have been changed in this feature due to safety and security reasons*