By Olivia Warwick
The Barnardo's Bournemouth Superstore is the organisation's first charity shop in the South of England. The store 'broke a record for takings during its opening weekend in March.'
The charity shop saw quieter days over the summer holiday but has seen a 14% increase in income since September.
David Longmore, the Head of Store Proposition and Development, said: "it is impossible to calculate how much of the increased autumn trade is due to the current cost-of-living crisis."
The cost-of-living crisis continues to affect families nationwide, local communities depend on charity shops to provide quality items at discounted prices.
Margaret O'Reilly, the Communications Business Partner of Barnardo's, said: "the store has proved really popular with local people," and "It provides a mainstream store experience but with charity shop prices."
There has been an influx of young people who regularly shop at charity stores, thanks in part to social media trends of people thrifting clothing.
Young people like Sandra Lopez believe that: "charity shops are definitely having a positive impact on the world and it's one of the best ways to make the most of clothing items that have already been worn before."
Sandra points out that charity shopping or thrifting has become a modern fashion trend and hopes it doesn't lose popularity in the future; pointing out that: 'it's a very powerful way of appreciating what we already have."
It is more sustainable to reuse clothing bought from charity shops. Steve Lambert, the store manager at Barnardo's Bournemouth Superstore, highlighted the impact and importance of donating clothes and items to charity stores. Steve explained, "things don't go the landfill, everything becomes sustainable, it's better for the environment. Things get sold at a cheaper rate, customers get what they want. It's the way the future is heading."
Donations are a key part of Barnardo's charity shop, and so are their volunteers. There will always be people who want to help those in need. Steve points out that: "Charity shops are really good and useful for that kind of thing, it's a way for people to feel like they are doing something."
Barnardo's helps support and nurture children who have experienced deeply traumatic events in their life. They supported more than 382,000 children, young people, parents and carers last year. Margaret O'Reilly expressed that their "retail shops are hugely important in supporting that work."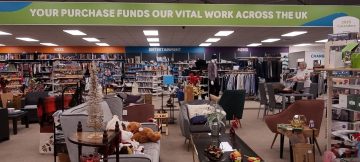 Charities are a key factor in our societies, from offering aid for those in need to sustainably recycling clothing and items. More information on the work Barnardo's does can be found on their website,Barnardos.org.uk.