After nearly 120 years at Colehill and Wimborne Sports and Social club, Colehill Cricket Club have been told adult cricket can no longer be played after heavy complaints from neighbours.
Complaints have significantly risen in recent times from the surrounding neighbours, with the sports and social club stating that it was not "viable to continue".
A club since 1905, they now fear for their future with the decision likely leading to the club shutting down as a result. The decision has sparked outrage both in the local community and across the national cricket community.
The outrage has led to a petition which has hit over 20,000 signatures in the space of 4 days.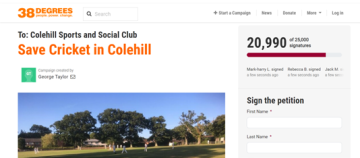 Support for the club has grown significantly, with nationwide recognised social commentator Piers Morgan taking to Twitter to voice his protests.
Imagine buying a house bordering a cricket ground then moaning about the odd flying ball? These pathetic home-owners should be told to stick their complaints up their whiny killjoy backsides. Save @ColehillMCC – please sign the petition. 👇👇 https://t.co/I1KHUG4jf6

— Piers Morgan (@piersmorgan) January 10, 2023
Local cricket fan and umpire Dean Daniels, who has played and officiated at the ground numerous times, spoke to Buzz Bournemouth on the huge outpour of support for the cause:
"The cricket family is really good.
"In the last 20 odd years, participation in cricket has fallen. We look after ourselves with friends and colleagues from other clubs.
"Without that support cricket will wither away and die. If cricket doesn't happen at Colewill, it will be another ground that may disappear."
Local Christine Easton expressed how the cricket club "is a very important part of the community."
There is discussion amongst those wishing for the decision to be overturned regarding the potential of a fence being put around the ground for the damage limitation.
The club have stated that they would like to give the fundraising a go but it was never provided as an option.