Four months into his role as Wimborne Town manager, Tim Sills says their recent form is bringing a fear factor back to the club.
Sills said: "People are starting to sit up and take notice of us; and we want that fear factor about us."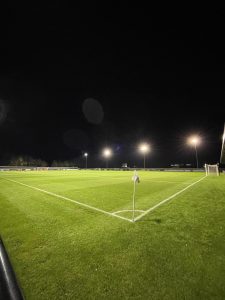 The Magpies went on a 14-game unbeaten run, including six wins in a row for the first time ever in the Southern League Division One South, rocketing up the table from 14th to third since Sills' appointment.
The first of just two league defeats Sills has suffered since replacing James Stokoe was 1-0 at Willand Rovers, just five days after taking the job. So what has changed in such a short space of time?
Sills said: "They [Wimborne] were on a downward spiral, so there were lots of little things to change quickly – instilling belief in them, getting that real sort of character that we knew they had, to go along with the quality they've got."
"Fitness was also a massive thing; you look at the first [home] game we had [vs Paulton Rovers], we ran 83km in total and now we're doing 105/110km most games." Sills said as we chatted on a freezing Thursday night in the away changing room at New Cuthbury.
The fine form of Harry Baker has been key, flourishing under the new management and scoring nine in his last eight games.
"I love his attitude; I love his work-rate and I don't think I've worked with a better finisher!" said a visibly thrilled Sills.
Conceding goals
One area for improvement, however, is keeping clean sheets. In the four home games before this interview there have been 19 goals, with seven scored on or after the 90th minute.
"That's a crazy stat!" Sills laughed. "We want to entertain but we want a few more clean sheets as well, that would be a lot better for my blood pressure!"
Tightening up at the back is an area that goalkeeper coach Ben Sullivan agrees needs working on.
Sullivan said: "There's been individual errors that you can't coach. Physically we've got the players fitter, but mentally they need to be fitter too."
Wimborne Town have been flying under Tim Sills and have real momentum behind them – time will tell where they finish the season.