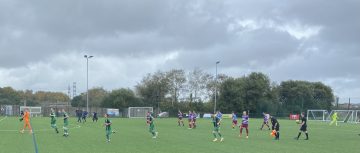 Newcomers Hamworthy United are exceeding chairman Steve Mitchener's' expectations in the Southern League Division One South this season with strong praise for youth players.
The Hammers are in third place after a strong start to the season.
With three of the starting 11 being products of the Eastleigh youth setup, Hamworthy have gained quality for the season.
Cam Munn, Rhys Taylor and Drew Eccott-Young were all members of the Elite Development Squad at Eastleigh FC before their release at the end of the 21/22 season.
The three of them played Wessex League football last year as Taylor was a part of the Bashley squad and Munn played at Hamworthy along with Eccott-Young.
Hamworthy chairman Steve Mitchener said: "Our pre-season expectations were merely to remain in the league as we are of course a newly promoted team."
He added: "Our squad has proven that we can handle the level that we are at so there is no reason that we can't hope to finish in the top half or even the playoffs."
He also said: "They are very important squad players" with young striker Cam Munn being said to be the "first name on the team sheet."
Whilst they represented Eastleigh's EDS side, they would train three times a week with an opportunity to do a tactical session with the first team on a Thursday.
The development side competed against other non-league development sides and the majority of them represented the first team in the Hampshire Senior Cup.
Eastleigh's Head of Academy Luke Hardy said: "The squads we put out for those cup runs its pretty much all EDS players with a handful of first team players.
"To learn off of our first team players in how they deal with situations and how they handle different scenarios on the pitch it's just a good first step to potentially playing FA Trophy games and then to play National League games."
Luke went on to talk about how coaches prepare players for men's football.
He said: "It's about getting players to understand that it's not just about looking good it's about being effective in your position and what can win games of football."
Steve Mitchener said: "It's almost like professional coaching that they've had, and they've had the opportunity to go to work Monday to Friday and play football."
Hamworthy will look to continue their good form and will certainly be hoping the young trio to help propel the side to success.