A student from Bournemouth who represents Great Britain in bobsledding is being forced to raise funds to compete this season due to a lack of funding for the sport.
Rebecca Hannibal, 20, who has represented GB since she was 17, has created a GoFundMe so she can compete.
The Cardiff Met student has been competing since 2019 when she became a part of the Youth Olympic Games cohort. That same year she achieved a spot on the senior women's team. Her international debut was that November in Lillehammer, Norway.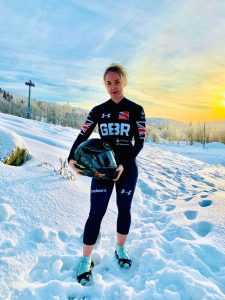 "Everything is self-funded including accommodation, kit, sledge hire, track hire, van hire, competition fees and food," said Miss Hannibal. She went on to explain that on average, one of the five competitions per year costs her £2000-3000.
Miss Hannibal explained that a GoFundMe would help her pay for all this equipment, travel, and fees. It will allow family, friends, and kind strangers to help her continue her Olympic journey.
"Being a student trying to find this volume of money is very challenging, the GoFundMe will relieve some of the financial pressure," said Miss Hannibal, who is currently doing an undergraduate degree in sports management. She has also turned to corporate sponsorships to help her continue with the British team.
Funding for bobsledding has been very minimal since the 2018 Olympic games. The British Bobsleigh and Skeleton Association say funding has been reduced from around £4 million for the 2018 Olympics to £120,000 for 2022-23 season.
Previously this lack of funding may have been due to results in the sport. However, recently Britain achieved a bronze medal in the 2014 Sochi Olympics and sixth in the 2020 Olympic games.
£2 million is now allocated to British bobsleigh but this only goes towards the World Cup squads. This leaves other athletes such as Miss Hannibal still having to self-fund.
Although is a step in the right direction, it still leaves athletes like myself having to fund a whole season independently.
"Hopefully these results will lead to an increased financial investment into the sport and the future of development for athletes such as myself," said Miss Hannibal. In the meantime, she hopes people will donate to her cause so she can continue to compete.
Lack of funding into bobsledding means that sportspersons with less financial stability turn to methods, like Miss Hannibal, such as GoFundMe, to continue in the sport.