Marcelle Joseph and Rebecca Pelly-Fry take centre stage at the Giant Art Gallery in Bournemouth with an exhibition about the feminist movement.
This is the first time the two curators have joined forces.
Marcelle Joseph said: "It's been a wonderful collaboration and partnership with my co-curator, Rebecca Pelly-fry."
"Becca brought to the table her prior relationship with Stuart Semple, the creator of Giant Art Gallery." She added.
Body Poetics is an art exhibition like no other, it is art that literally comes to life.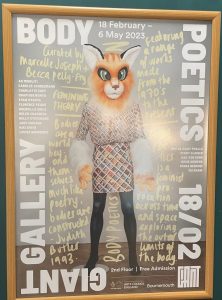 This exhibition consists of just under 20 artists who contort and change their bodies to display an emotion or meaning to the audience.
"I want visitors to think more about a body without any boundaries," said Marcelle.
One performance artist in particular, Rosie Gibbens, has worked within this industry for several years.
Rosie Gibbens graduated with an MA in Contemporary Art Practice at the Royal College of Art in 2018.
"I've had a lot of experience over the years with performances in different locations… there's obviously a degree of nervousness," Rosie said.
When Rosie was asked to be involved in this exhibition by the two curators, she was left flattered, due to her previous admiration for Marcelle, Rebecca, and Helen Chadwick who she was paired up with.
"It was a huge inspiration for me," said Rosie.
Before Body Poetics, Marcelle Joseph held an exhibition as a collector at Rugby Museum, called Body en Thrall.
"Body en Thrall was the first public display of my collection, as I am a collector as well as a curator," explained Marcelle.
The collection held at the Rugby Museum showcased 48 female artists, 38 from Marcelle's collection and then 10 from the Rugby Collection.
The decision to move to Bournemouth for an exhibition was clear to the two curators.
"It was a perfect storm for me, it gave me the ability to use my academic expertise in feminist theory."
The exhibition, Body Poetics began on February 18th and is continuing until the 6th of May.