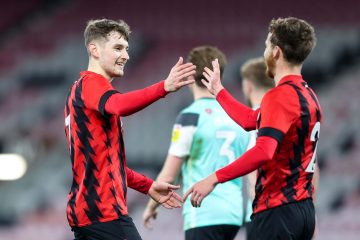 David Brooks netted three times on his return to the Vitality Stadium, as AFC Bournemouth's development squad beat Portsmouth 5-2 in the Hampshire Senior Cup.
The 25-year-old was instrumental as a young Cherries side came back from 2-0 down in the first half.
The Welsh International was diagnosed with Stage 2 Hodgkin lymphoma in October 2021, but in May 2022 said he was "cancer free".
He made a brief appearance as a substitute for the first team in their 3-0 defeat at Aston Villa.
Against Portsmouth, Brooks was involved within the first five minutes as he set up Ben Winterburn, who was then denied by Pompey keeper Josh Oluwayemi.
The visitors went in front as Tom Lowery took advantage of a mistake, before rounding Billy Terrell to score.
The League One side doubled their lead as Lowery's cross set up Koby Mottoh – his first-time strike was too much for Terrell.
Cherries swiftly bit back, as Winterburn and Brooks combined again and the winger bundled the ball over the line after his original shot was saved.
It wasn't long before the scores were levelled, as Brooks again played a lovely through ball, this time to Adu-Adjei who smashed off the post to equalise.
Bournemouth then completed the comeback as Winterburn found Brooks, who curled the ball round Oluwayemi for his second, and a third goal for the Cherries.
It wasn't long until the Cherries' supporters rose to their feet again as Brooks completed his hat-trick, after neatly placing the ball into the bottom right corner.
20 minutes into a quieter second period, Cherries skipper Ben Greenwood released Adu-Adjei who netted his second, securing the 5-2 win and a place in the semi-finals.
Major moment:
This came as David Brooks added his third goal of the evening on his return to the Vitality after 18 months out, a special occasion for him and anyone else connected with AFC Bournemouth.
AFC Bournemouth:
Terrell; Genesini, Kinsey-Wellings, Greenwood, Boutin (76'); Williams, Brown (87'), Winterburn; Johnson (53'), Adu-Adjei, Brooks (45')
Subs:
Gidaree (76'), Crisp, Morgan (53'), Rees-Dottin (87'), Dacosta Gonzalez (45').
Portsmouth:
Oluwayemi; Quarm (47'), Robertson, Dockerill, Hume; Lowery (71'), Mingi, Payce; Mottoh, Pigott, Jacobs (45').
Subs:
Steward, Laidlaw (45'), Murray, Aston (71'), Fox (47').