Helch Market, a must for your summer in Bournemouth
For those who find the charm of London street food markets something to be missing in other town and cities across the country, Jamal Benamor, entrepreneur and owner of Helch Market, has an answer.
Helch Market, named after the infamous graffiti tag, found on motorways leaving the capital, is a street food market similar to those you can find in London, with three kitchen stalls, a bar and in the basement, a vintage clothing and sneaker store, GTMP.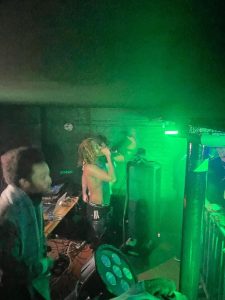 On Wednesdays, Helch is open for student nights where pints go for £2.99 and the basement equally serves as a venue, where Helch has hosted nights for Labre Collective, an underground hip hop and trap group putting on events in Bournemouth.
The space in Bournemouth town centre had been empty for nearly 15 years before Helch opened in January, needing two months of DIY work by Jamal and his cousins Michael and Aaron, who he enlisted the help of in October. The three learnt how paint, tile, create the woodwork and fit lighting for the basement and kitchen stalls in order to see Helch come to life, building the business from below the ground up.
Jamal had originally wanted to open a bar, following his last start up Akai, a juice bar and health café also in Bournemouth town centre. But when the space proved to be too big for just a bar, Helch was born, inspired by the likes of Camden, Vauxhall and Seven dials markets.
The decision to create a food market came after spending months in the summer in London, with Jamal finding himself exclusively eating the street food there. Much of the best and cheapest food is to be found in these markets, as well as the charm of each stall being an independent business, just like at Helch.
"I went to loads of different food markets when I was staying in London for a couple months, did a lot of research then, took loads of pictures, my camera roll has thousands of different pictures of food markets"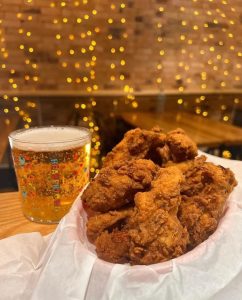 Michael Labidi runs the fried chicken market stall 'What the Cluck Bournemouth' which offers Burgers, wraps, wings and more. whilst Aaron is the owner of 'Mammas Pasta' which serves its "Innovative twists on Italian classics", suiting the street food style at Helch. The third stall would be Roastie Toastie, formerly Crumbler and co, offering vegan options for anyone undecided on their lunch time meal.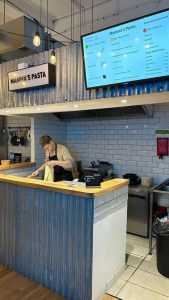 Michael, who worked almost every night after his work in order to make the market a reality is a big believer in the independent manner in which Helch is ran, with all the kitchen stalls being separate, causing no confusion that the space in town centre is not just one restaurant.
"I think in Bournemouth we have lots of big empty building and it's no mystery to anyone that some of those buildings stay empty for like a decade or so. Part of that is just the astronomical cost of renting these units. I think when you divide that up, it does make just getting into a business more feasible, you don't have to have 100,000 pounds to get into a business all of a sudden, so now it becomes actually achievable for the average person."
For those either coming from the capital looking for something similar to the markets they may find there or simply if you're from Bournemouth and don't know where to find your next bite to eat, Helch stands alone from anything else in town. Jamal and his cousins are ready for a summer of good food, vibes and prices, all down by the beach and pier.
Make sure you're there.