A cyclist from Bournemouth says he "can't wait" as he prepares for an elite-level bike race in France.
Jamie Whitcher, from Southbourne, is set to compete in the Chrono des Nations under-23 race on Sunday.
The 19-year-old is travelling to Les Herbieres to test himself against some of the best young riders in the world.
Whitcher said: "I'm pretty happy with how everything is going and I can't wait to get racing."
Teams from as far as America, Italy and Canada will participate, with the 30 competitors facing off in an Individual Time-Trial format.
Riders set off one by one at certain intervals, and the athlete with the fastest start-to-finish time wins the race
Whitcher will represent the Bournemouth Cycleworks VitecFire FordCE team in Western France.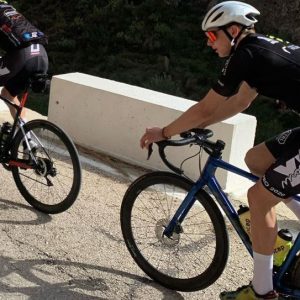 After not appearing at the junior race last year due to illness, Jamie is eager to take the chance of attacking the course.
"I've been preparing ever since my operation in June. I went off to the Pyrenees and did some pretty hard racing in the mountains so that was good training"
"For the past seven weeks, I have done a time-trial every Sunday. There's a lot of improvement everywhere so I've been getting faster every week. I'm definitely looking forward to doing something I really enjoy."
View this post on Instagram
"I had a surgery that completely resolved all of my health issues. I'm fully healthy and definitely on the road back to the top of my game."
The race will be run over a distance of 22.7km, starting and finishing in the town of Les Herbieres.
Previous winners of Chrono Des Nations have gone on to stand atop the World Championships podium, take stage victories at the Tour De France and achieve Olympic gold medals.
Mark Williams is Chief Executive of Pedal Potential, a local charity offering funds to Whitcher and other young athletes.
Williams said: "He had a very good start to last season, but unfortunately he was struck down with illness which was only really identified towards the latter end of the year. He has the potential to achieve a lot."