Businesses across Bournemouth, Christchurch and Poole are subject to the Government's ban on single use plastics.
Items such as plates, bowls, cutlery, trays, containers and balloon sticks are included in the ban, which came into force on October 1.
Companies will now be at risk of a fine if they are found to still be supplying it.
According to the Gov.UK website within the UK 2.7 billion items of single use cutlery had been used, most of which were plastic, and 721 million single use plates were used per year.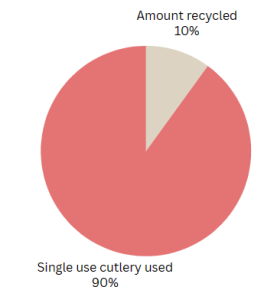 Graphic created by Charlotte Batson using Canva
What to do if you are fined
Businesses are able to appeal a fine within 28 days if they think something is incorrect. Proving they did everything they possibly could to avoid breaking new rules would be an acceptable defence, the Government has said.