Saturday September 16, 2023 is a date that will go down in Wimborne history, taking on a full-time side in Torquay United and setting a New Cuthbury record crowd of 1,852 in the process.
Now the dust has settled a month on, senior figures at Wimborne have been reflecting on the historic match, despite the 3-0 defeat.
Wimborne manager and Torquay legend Tim Sills said: "It was an amazing occasion for the whole club and obviously very special for me to feel a lot of love from both sides of the stadium.
"The Torquay days of my career were golden ones and I have a burning desire to make the Wimborne ones just as memorable."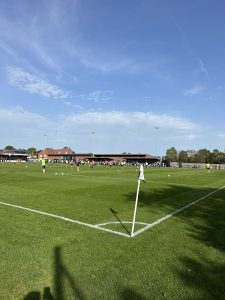 Tim Sills famously scored the second goal in Torquay's 2009 play off final victory against Cambridge United, promoting them to the English Football League, something which made him a living Gulls legend.
A year ago, Sills took over a struggling Magpies side, relegated from the Southern Premier Division under James Stokoe and galvanised the squad, narrowly losing to Sholing in the play-offs.
The performance against higher opposition Torquay though is one that Sills is very proud of, despite the eventual 3-0 defeat.
He added: "We more than matched a full-time side who are two divisions above us. The difference was how clinical the sides were at both ends as it could have been a much different result if we had converted our many chances.
"Ultimately it demonstrated to our group that they are impossible to contain when they hit their standards and that stands us in good stead for the rest of the season."
The game captured the imagination and a record crowd turned up to watch a spirited Magpies side fall to defeat, as they just couldn't convert their chances.
Club reporter Graham Dunn reminisced about the [old] Cuthbury record crowd and how it compared to this one.
"I can remember taking my 14-year-old son to the FA Vase semi-final second leg against Bamber Bridge at [old] Cuthbury in 1992," Dunn said.
"It was great bonding between a dad and his lad, and we often talk about it – I'm sure that would have been the case for many families at the recent Torquay game."
The Torquay attendance wasn't a fluke though as Wimborne have been averaging the highest attendance in the Southern League Division One South this season, 532, as Sills' side aim for promotion.