Since 2004, Strictly Come Dancing has been gracing our screens with its glitzy outfits, glamorous celebrities and iconic commentary from the likes of the judges. Recently, Strictly Come Dancing has been in the limelight for the progressive steps the show has taken in the representation of the LGBTQ+ community and other circles of society.
Layton Williams and Nikita Kuzmin have appeared in the latest season of the popular show and they have made an impact with a record in their wake. They have achieved the highest score of the series, receiving a remarkable 37 points out of a possible 40. Despite their talent, some people are still against Williams. He has has publicly admitted he has received abuse on his social media pages and has chosen to travel wearing hats and sunglasses so as not to be recognised, for his own safety.
The messages of love are overwhelming but as is the low key trolling. I'm just here to have fun like all the other contestants. I'm trying to handle this with a smile and determination to slay another day but reminder #BeKind 🕺🏾 #Strictly ✌🏾 pic.twitter.com/hhgyCosNZx

— Layton Williams (@LaytonWilliams) October 1, 2023
Williams has also received a backlash for his previous careers in West End shows like Billy Elliot. Critics have claimed he has an unfair advantage against the other contestants. In spite of all the comments, he continues to dance in the show, setting an example for others in the community. Bournemouth University's Liberation and Campaigns Co-ordinator Hayley Butler said: "It's got to be positive. We need more well rounded media coverage of the community." She added: "Sometimes it's just people trying to sexualise something that is just two people, of the same sex, dancing together." She would also like to see other shows like Dancing On Ice implement more LGBTQ+ elements. She believes that people "shouldn't feel the need to report on the couple as it should be just standard".
Although he is receiving negativity through his social media, he continues to have an active and vocal presence about his Strictly Come Dancing journey.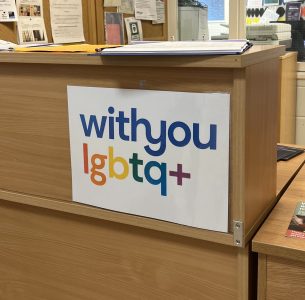 Poster on a desk. Photo by: Aaron Sugg