A variety of new sports will make their debut at the Paris 2024 Olympics, one of them being kite foiling, writes Oscar Parr and Dexter Allison.
Newly selected Team GB member Ellie Aldridge described kite foiling as the Formula 1 of watersports.
It sees athletes 'fly' above the water riding boards with hydrofoils, propelled to speeds of more than 50mph by enormous kites.
The path to winning a gold medal does come with an air of confusion, however.
The six-day event starts with every entrant taking part in races over the first five days.
The top 10 then go forward to the final day showdown with first and second promoted straight to the final series and the other eight competitors racing in two semi-finals from which the winner will go into the final.
From there, it's the first competitor to take three race wins who will grab the coveted gold medal.
"Even my friends that know the sport don't know what's going on," Aldridge joked.
Originating from Poole, Dorset, Aldridge told BUzz News about her atypical training plan.
She said it was essential for her to actually gain weight, something people wouldn't think to hear from a professional Olympian.
"The heavier you are, the easier it is," she said.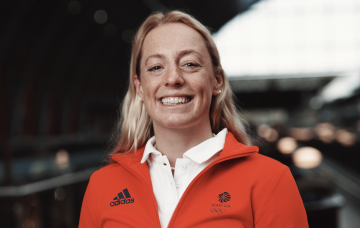 Kite foiling originated in the late 1970s in the South of France by brothers Dominique and Bruno Legaignoux and had only really been seen as a hobby until it was accepted as an Olympic sport in 2018.
Aldridge won silver at the World Championships in The Hague earlier this summer, and now looks to go one better in France next summer.
She said: "Me and my friend used to have this running joke where we'd both joke about being in the Olympics one day, I didn't think I'd actually be there."
The 26-year-old admits there is a lot of pressure on the sport as it is very unclear what the future holds.
"There's pressure on the production to make it look good in the Olympics. If it is shown well, it could be a revelation, however if it is not then it can do harm to the reputation of the sport."
Getting into kite foiling can be tough due to the kit and equipment being very expensive.
"I bought my first set for £90, and it was pretty bad, but I made it work. Most people get cheap equipment when they are young and hope to be noticed by sponsors who will eventually buy the kit for you."
Although most of the Games will take place in Paris, the sailing competition will occur in Marseille.
Aldridge will spend a lot of time there in preparation to compete and get used to her surroundings.
She said: "It is very hot. We must wear ice vests and heat climate practice to get used to the weather conditions."