A young referee who officiates in Non-League matches across Dorset has welcomed a landmark initiative for grassroots refereeing.
Spencer Chinnock, 20, supports the Football Association's newly launched three-year plan to make refereeing in England more sustainable and of a higher standard.
The plan's main aims are to make refereeing a more attractive career choice and to cut the amount of abuse officials are facing.
Mr Chinnock is an up-and-coming referee currently operating in the Wessex League, the ninth tier of English football, and is enthusiastic about the new strategy.
He said: "I think it is an encouraging initiative that has been needed for a while now."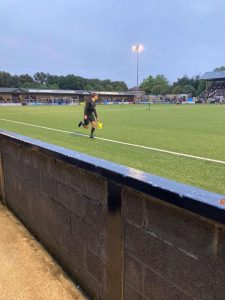 Mr Chinnock's favourite aspect of the new strategy is how the FA have made it a more attractive career choice.
He said: "The most appealing thing from a young referee like myself is that they have given opportunity to reach top elite levels much quicker than before."
This season it has been seen right from the top of the professional game that referees are clamping down on abuse they receive from players. More yellow cards are being given for dissent than in previous seasons in an attempt to stop the amount of abuse players and staff give to referees.
Despite this, Mr Chinnock said: "I still believe there is consistent abuse directed at referees this season. It will be very difficult to improve behaviour towards referees without everyone being educated."
Some factors of the new plan are already having a positive effect on refereeing making it a more sustainable career. This is vital as without referees and officials, a game of football cannot exist.
Another transformational goal that has pleased Mr Chinnock is the FA doubling investment in their development system and tripling online resources training. "I have found the online resources and training especially useful," he said.