Bournemouth University has partnered with Dorset's Polz Apart to deliver fun, fitness-based classes.
Despite once being a taboo practice, pole as a form of fitness has drastically grown in popularity in recent years.
Pole allows the body to build strength, endurance and improve flexibility.
Zea, who teaches beginners classes at Bournemouth University says building strength happens very quickly.
"We expect beginners will be weaker – it's why we have a beginner's class. But by about week six you'll be really getting somewhere.
Zea added "what's nice about pole dancing is that unlike other fitness groups, you don't just hide at the back – one of the instructors will always give you some one-on-one training during the class."
Liv, a student at another pole school in Dorset: Pole Active says, "It's best to be consistent with training, however muscle memory is a beautiful thing and definitely present in pole."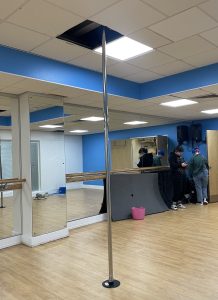 Jacob, who took up pole after seeing an advert on social media, says the fitness routine is "Heavily strength based but includes elements of balance and flexibility."
He added: "You're holding your body weight against the pole in various poses, you need strength in the right muscles and balance and flexibility to transition through the sequence."
The community spirit is often noted as being one of the best parts of the class.
Liv has been pole dancing for two years due to her sister's recommendations.
"I was nervous but felt at ease from the first class, everyone was so welcoming, it felt like such a safe space to try it."
Polz Apart owner, Zea said in her classes "You're looked after, cared for and supported. Pole dancing is very exciting –  when you pull off a move everyone is happy about it and claps."
Jacob said, "the social side is great and welcoming, you may feel a bit weird being the only guy, but you're accepted, people are supportive."
He added "it's nice to see others progress."
Zea hosts the beginners' classes from 7pm on a Monday at Talbot Campus and always has room for new faces.