New Wimborne Town general manager Jimmy Glass has set a personal aim of promotion to the National League within five years.
Glass, 50, raised eyebrows after swapping the Premier League for non-league when the Magpies appointed him in July.
Glass left his role as Player Liaison Officer at AFC Bournemouth, a club he played 111 times for during his career.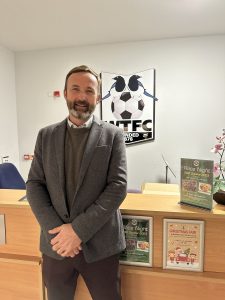 Setting the Southern League Division One South [step four] side the ambitious target, Glass said: "My aim is the National League in the next four-to-five years.
"If I'm out by a year or two, so be it, it's not massively important if we're not there. If we fall short and end up in the National South it's not the end of the world."
The highest division the Magpies have played is the Southern League Premier [step three] which they got relegated from in 2022 after four seasons.
"I'm creating a vision that Wimborne becomes the best club outside the Vitality Stadium in the surrounding areas.
"I only know how to work one way; I've been working closely with arguably one of the top three managers in the Premier League.
"Eddie Howe is a precision man who liked to get things right and that's the mindset I want to bring to this club."
The man behind Glass' appointment was Wimborne owner Martin Higgins, who along with co-owners Lee Merrifield and Adam Tovey, took over the Magpies in December 2021.
Merrifield said: "Martin and Jimmy had a meeting about something completely different to Wimborne.
"However, during the meeting Wimborne came up. The prospect was attractive to Jimmy as he can see we're ambitious and that's something he sees he can help with."
Wimborne have started the season strongly, sitting top and with the league's highest average attendance of 557, over 150 more than the next-highest Bashley.
Club reporter Graham Dunn has noticed the differences Glass has made; from tidying up the car park to getting more match sponsors and AFC Bournemouth Academy partnerships.
Dunn said: "He wants everything about the matchday experience to be the best in this league and the league above."
Wimborne's ability to do this was shown when hosting Torquay United in the FA Cup in September, setting a new ground record of 1,852.