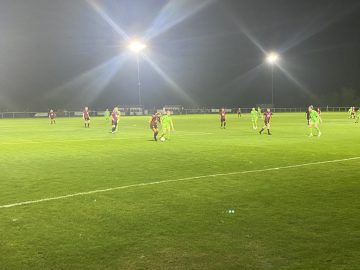 AFC Bournemouth Women played at the Vitality Stadium on 5th November where they beat Portishead Town 4-0 and a record breaking attendance of more than 4,000 fans were at the ground to watch the team win.
This is in huge contrast to the usual experience for the team who regularly play at Ringwood Town's ground, the Canotec Stadium, with a normal attendance of around 100-150 people.
This record attendance shows how the increased popularity of women's football is having an impact on lower league football teams.
Bournemouth Women FC players currently play at a semi-professional level, as do most of the players playing in the different leagues that form the National League, including the league Bournemouth play in, the South West League.
Increased attendances and support for women's football will hopefully help a lot more women's players, including Bournemouth women, play at a professional level like the players in the FA Women's Super League.
This will be helped by the increasing amount of money being put into the sport from TV and sponsorship, particularly following the recent success of the English Women's national team in the Euros and World Cup.
Bournemouth fan James, who watches both the men's and women's teams, stressed how important it is for the women's team to be playing regularly at the Vitality Stadium, saying "the more experience these ladies get playing in front of this amount of supporters can only help the game".
Support from fans is just as important to Bournemouth's Women's success as support from TV and the FA.
Lucy, who works at the Canotec Stadium club house, hopes the increased popularity in women's football can have an even larger impact than just increased attendance. She said: "I hope it leads to gender equality and equal pay."
Manager of Bournemouth Women, Steve Cuss, was also hopeful that the increased interest in his team will be sustainable, saying: "It is important within sport and it's needed."
He also referenced their 13-2 win against St Austell saying, "you can see by the quality of football we're playing".
With huge wins and record attendances at the Vitality Stadium, Bournemouth Women will be hoping that a successful season will increase their chances of becoming a fully professional team in the near future.