The RNLI have seen a steady decline in the amount of donations they have received over a four year period, from 2012 to 2016.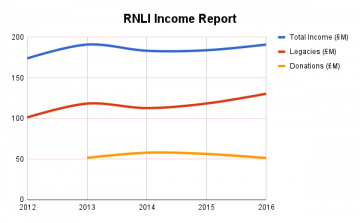 This graph indicates the rise and decline of the RNLI's two main sources of income: Legacy gifts and donations.
RNLI income
Legacy gifts are donated in a will or other form of financial designation. Whilst, donations are anything from change collections to fundraising events.
The income generated through legacies has been on a steady incline. This means that the charity are able to update and modernise their equipment.
Poole Lifeboat Station have recently received a new D-Class inshore lifeboat called the Gladys Maud Burton – a legacy gift left by Ms Burton.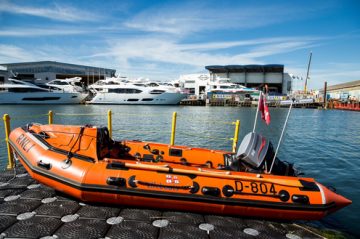 However, the problem of a declining rate of donations from the 2014 high of £58M to £51.5M by 2016 is causing concern. In the 2016 Annual Report it was noted that:

"donations have reduced substantially".
Modernising the donation process
To try and tackle this problem the RNLI have had to modernised their donation process.  
For the first time, the RNLI have launched an interactive televised fundraising event – the Turkey Dash  – which allows members of the public to use an app to donate to the charity.
Want to see Captain McStuffing wing it across the finish line first in the @PayPalUK #TurkeyDash? Donate to the training fund https://t.co/T2cCCtaUbq and help the @RNLI save lives at sea. Watch the race on 15 December at 8pm on Channel 4. pic.twitter.com/ba0l6pFJRm

— RNLI (@RNLI) November 28, 2017

The RNLI continues to grow year on year and is set to release more initiatives in 2018 after the call for more fundraisers.