The Royal National Lifeboat Institution (RNLI) in Poole are calling for more fundraisers in the run up to the new year.
The RNLI in Poole has been called out over 100 times this year and has helped save many lives.
The work of the RNLI is funded completely through public donations via fundraising and volunteering.
However, the charity have seen a fall in the amount of fundraising they have seen. 
"Over the years, there has been a steady decline in fundraisers"

said Anne-Marie Clark, press officer for Poole Lifeboat Station.
RNLI costs
The RNLI cost £177.3M to run in 2016 and the figures for this year are set to be similarly high.
The cost of running Poole Lifeboat Station is around £100,000 but this does not include the price of the equipment needed by the volunteer crew members.
Lack of donations
In their latest annual accounts report the RNLI found that donations had dropped 'significantly' by £5M and Ms Clark said: "It is getting harder".
With cut-backs to the Poole Lifeboat Station, such as the relocation of the Tyne-Class vessel to Swanage,  volunteers are seeking for more help from local fundraisers.
"We're struggling to find people to fund raise and we need more of them" said Ms Clark.
Super fundraisers
However, the wonderful work of fundraisers does not go forgotten. A local boy, Ben Gregory, has recently brought his fundraising total to £940.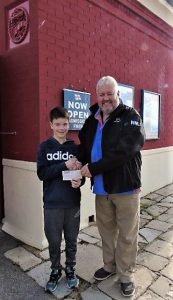 Ms Clark said: "People do amazing things and we must not forget the good work that everyone does".
So why has there been such a decline in recent donations this year? "We can't be sure" says Ms Clark, but "times are changing and we'll have to change with them".
To read more about the history of Poole Lifeboat Station click here
To read more about the decline in donations click here