The Guardian can reveal that there has been more than a 10% decrease in the Costa Del Sol's British population. Olivia Shortall reports exclusively from the community dubbed 'Little Britain' to discover the reasons why residents are returning home.
James Walsh has lived on the Costa Del Sol for over 11 years and has owned British bar 'Coco's' in Benalmadena in Spain for most of that time.
In July 2010, at a post-wedding party at Coco's, he feared for his life. An Irish father of two was shot dead in front of James by a disgruntled Englishman with a .38 revolver who then proceeded to point the weapon at him.
The British bar owner, who had earlier that night told the drunk Englishman to leave his bar, recalls: "Then he came back and shot a guy on the terrace and then tried to shoot me twice and missed thank God!"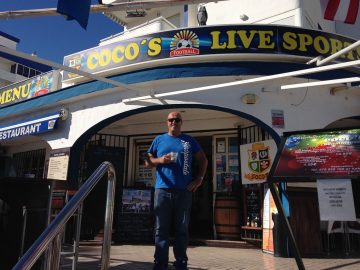 He said the traumatic incident took him and the local community a while to get over. "Everybody was in shock – it wasn't a nice thing to have to go through. I wasn't right for some time as you can imagine. There were alcohol and drugs involved unfortunately and it ended in the worst way."
Benalmadena is a town very popular with British tourists in so-called 'Little Britain' and, in the summer, its population can almost triple. Nearly 2.4 million Brits visited last year alone.
However, James has noticed a different trend as far as the British resident community is concerned: more and more are leaving. Yet, perhaps most surprisingly, he doesn't believe the notorious British behaviour abroad is a main reason for the exodus.
"In the last nine months, I've lost four British couple-friends of mine who've decided it's time to head back.
I think this whole Brexit thing is frightening people. You could say it's had a domino effect – as soon as one decided to go then the others followed."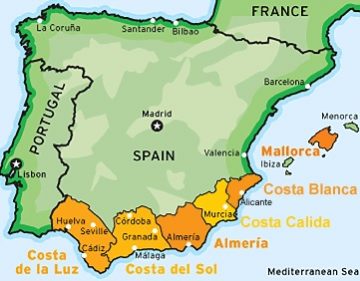 James's friends are among the 10% of British expats who moved back from Spain in the last year, according to the
Office for National Statistics (ONS)
.
Jason Rogers, who owns a British tourist boat in the Costa Del Sol suggested a different factor may also be playing its part.
"With the terrorist attacks happening around all the other holiday resorts such as Greece, Turkey, Egypt etc., it's frightened people off from going there and they're all coming here. But the more people that come here, the more people living here fear that we will be next."
He also agreed that Brexit has had a major impact on the expat community of the Costa Del Sol.
"With Brexit, there's the uncertainty of where they are going to stand with the British and the Spanish government.
"When Brexit does happen, medical aid and things for Brits living here is not going to be so easy any more. No matter what the government comes and says, things have already changed."
Scottish retiree Anne Dargie lives with her husband near Torremolinos in the area known by the locals as 'Little England'. Both are concerned about healthcare.
Under the current government structure, the NHS reimburses the healthcare costs for British pensioners who are retired and living in Spain.
In December 2017, the UK reached an agreement with the European Commission on citizen's rights that all UK Nationals living across the EU by March 2019 will be able to stay. This essentially means that the reciprocal healthcare in place will remain the same for those nationals. However, not all expats are convinced suggesting this information may have come too late.
The Dargies still feel that their entitlement to treatment in Spain might suffer after Brexit.
"The Spanish have also said nothing is going to change but we will have to wait and see. I think they see that any changes will have a major effect on their economy, especially in the Costa Del Sol."
Anne also forecast a "huge" healthcare problem for Britain as "an ageing population descends on its shores".
She also felt the anti-social behaviour of British tourists was already encouraging British residents to rethink their residency in Spain.
"We've already decided to avoid the Costa Del Sol in the summer season and go back to Scotland instead."
Roy Healy, an ex-navy retiree, has split his retirement between the Costa Del Sol and the UK for over two decades.
He recalled a time when the Costa Del Sol was "booming" with British people deciding to settle and retire in the "golden coast". He added "I've been here for over 20 years and I've seen a lot of changes – not always for the better."
In regards to why so many have decided to return to the UK, Roy insisted it's got everything to do with the value of the pound. "It's all about the money. You've got people like me (retired) who used to get almost more than half of what I used to for my pound. It's just gone down and down and people just can't afford to live on a bad exchange rate anymore."
British expat Wendy Luffman has lived in 'Little Britain' since 1978. She provided an alternative explanation for the trend.
"I love it here – but the many friends of mine who have gone home made no effort to properly integrate. They didn't learn the language and still went for their Sunday carvery.
"I actually teach a lot of Spanish to the Brits. I just think if you live here you need to at least try and speak the language. But most expats don't because it's out of their comfort zone and that means they'll never properly settle in.
"They love Spain and will come back as holiday makers but they realised they couldn't live here. If you want to live anywhere you have to embrace everything."
Wendy also attributes the problem to British tourists: "Some mornings in the summer at 6am, I'm still wide awake because they're out blazing drunk, fighting in the street with no respect for all the residents that live around. Of course this aggravates the Spanish but it's actually putting off Brits from living here too.
"The problem is though, that without the people that come here on holiday the Costa Del Sol wouldn't exist. But the solution is simple: treat the people that live here with a bit of respect."
There's no doubt that the British expat community have a major impact on the economy of Spain, especially in the Costa Del Sol. Yet it's sobering to learn that one reason they are leaving could be down to the British themselves.
---
To read the full version of this article please click here
---
Listen – "Financially it's been the best year ever" – British bar owner reveals why he thinks Spain is more popular than ever with Brits
Watch – Welcome to Little Britain – see the Guardian's exclusive video tour here
Blog – Costa Del Return? Take our quiz to find out if you can fit in abroad
Instagram – @CostaDelReturn
Facebook – @CostaDelReturn