Bournemouth's Pelhams Park Rangers is not your typical football club. Aged 51 to 75, the all-male group play walking football outdoors all year round.
There is no running involved but a limit on touches before passing makes for a skilful spectacle. Derek Kearey, 70, was part of a group who set up the club three years ago to play in a more fast-paced, competitive environment.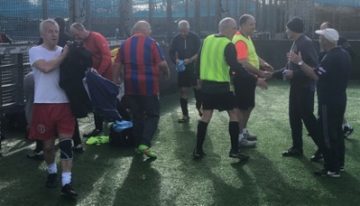 Rangers have grown from eight to over 40 active members and their dedication is clear.
"It can be pouring with rain and freezing cold like last Tuesday and 12 idiots still turn up to play," Kearey said.
"It's very energetic, most of the players come off sweating. In some games the ball goes off and you can have a breather. Here the ball's always in play."
Kearey has lost a stone in weight since he started playing and also emphasises the positive social aspect.
"We're a friendly club," he said. "You don't have to impress anyone, just enjoy yourself."
The team is set to appear in the FA People's Cup, a nationwide competition run in partnership with BBC Get Inspired across a number of categories including walking football.
While everyone looks forward to that match, the club says they will always welcome new players. Anyone interested can join one of their two sessions on Tuesday and Friday. Click here for more information on how to get involved.