A local Dorset artist, Emma Williams, has her artwork about organ donation on display at Dorset County Hospital.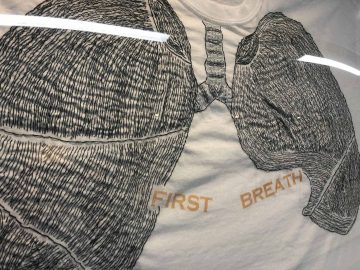 The thought-provoking exhibition, which was unveiled on Monday, will be on display in the corridor leading to the Damers Restaurant in Dorset County Hospital until 2nd March 2019.
The artwork features a series of compelling embroidered T-shirts showing  organs that the public could donate to those in crucial need of transplants.
Emma told Buzz: "What I wanted was that even one person talking to their family would have been an achievement."
Emma Williams interviewed local organ donors, donor's families and transplant recipients about their personal journeys. Emma took what she thought were the most salient words from her interviews and screen printed them in positions of where the organ recipients' scars would be, and then hand sewed the organs around them.
QR codes alongside each embroidered shirt link to interviews with the individuals that Emma spoke to about organ donation.
For Emma, this ongoing project is about addressing a shortage in organ donors with the aim to get more people talking.
"I just think it's really important that people get signed up to the register and that people talk." – Emma Williams
Currently there are over 6000 people waiting for a transplant in the UK, with only just over 3000 people having received a transplant since April 2018, according to the NHS.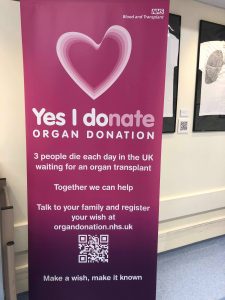 In the Poole and East Dorset areas less than half of the population are registered as organ donors, and as of May 2018 there are 20 people on the transplant waiting list.
Emma previously trained as a doctor, however after a decline in health she was forced to reconsider her direction in life. Emma is now on a foundation degree in contemporary fine art practice at Weymouth College.
"I was medically retired due to illness. I remember back in my medical school interview…we discussed opt-in, opt-out organ donation and we're still discussing that now, 21 years later," said Emma. She continued: "I had contact with families and staff that were to do with organ donation and I just think it's really important that people get signed up to the register and that people talk.
"I interviewed quite a lot of people, both donors and recipients… the interviews were quite powerful, I just wanted to take something positive."
Below, Emma speaks to Buzz about her inspiration behind her artwork, what she learned from her interviews and what else can be done to get more people to register as donors:
Andrew Ball, the clinical lead for organ donation at Dorset County Hospital has expressed his excitement for hosting the exhibit and that the message seems to be spreading of the importance of registering as a donor.
In the following interview, Andrew explains the "huge" gap between the number of available organs and the number of people on the waiting list. Andrew believes that the exhibition is making people take notice:
Buzz asked visitors of the exhibition whether Emma's artwork could encourage them to consider registering as organ donors, or if already registered, whether the artwork has reiterated the importance of organ donations.
Alastair Ahayler, an individual who wished to remain anonymous, Larry Potter, Abbi Jones and James Dunbar each gave their opinions:
Transplant recipients have praised Emma's artwork since their interviews with her, saying that her work is an effective of encouraging people to register as donors.
Buzz news spoke exclusively to organ recipients Adele Rose and Andrew Matthews.
Adele Rose, 63, from Hartfordshire received a 'Simultaneous Pancreas and Kidney Transplant' (SPK) in 2003. Below, she speaks of her ordeal and the need for more donors:
Andrew Matthews, 37, from Southampton received a liver transplant at the end of 2016. Below, he speaks about Emma Williams' "wonderful" artwork and about tackling his illness:
The exhibition has been set up by 'Arts In Hospital', a charity based at Dorset County Hospital.
The organisation aims to promote arts and culture to benefit the well-being of patients, visitors and staff as well as engaging with the wider community on creative projects to promote awareness for public health.
If you are interested in registering as an organ donor, visit: https://www.organdonation.nhs.uk