It will take over the Purbeck Pottery building on Poole Quay following the current owners' decision to retire.
Mitch Tonks, co-founder of the award-winning Devon-based restaurant chain, is looking forward to opening its first restaurant in Dorset.
Here is a short TV package explaining the changeover:
Mr Tonks said: "I used to spend a lot of time in Bournemouth and I've always particularly loved that central area of the coast there and Poole Quay has always felt magical to me.
"We saw the building there, Purbeck Pottery, and I just looked at it one day and I juts thought 'this would make a really beautiful restaurant.'
Rockfish, founded by chefs Mitch Tonks and Mat Prowse in 2010, has won multiple awards such as 'Best Multiple Operator' and 'Good Catch Sustainability Award' for 2017.
"We're hoping to open around June/July time and we'll start the design process around February.
"In my mind, I already know what the restaurant is going to look like inside and the feel that I want to create in there."
This comes after Philip and Sheena Barnes announced that they would be shutting shop. After 43 years of working at the pottery, Philip and Sheena have decided to close its doors to enjoy an early retirement.
Mitch Tonks continues: "When I first met them, they were just really really lovely people and you could tell that they had an incredible passion and energy for the business they had built.
"They must have been very well thought of in the community and we hope the Rockfish can be as useful and valuable to the community as Purbeck Pottery was."
Philip Barnes said how, during the sixties and seventies, business was thriving for Purbeck Pottery. But the decline in pottery nationally hit the business hard.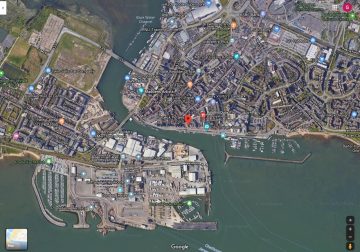 "I became aware, not long after I joined Purbeck Pottery, that we were going to have to change drastically to carry on as a business.
"We moved into this shop, which we already owned, in 1976 and did a bit of both. We did a bit of pottery and bought-in items and then gradually one replaced the other."
A vast number of potteries, including Purbeck Pottery, were hit by a rapid decline in sales at the turn of the millennium, forcing many out of business. Philip knew he had to adapt in order to stay in business.
"I convinced my wife Sheena to join us because of her artistic eye. Without her eye, we wouldn't be what we are today and we've carried on buying in gifts. She's bought them with her taste as the main function for that and it has proved to be very successful."
"But we've now come to a decision, or the decision has been made for us by time and age, that we have got to retire at some time.
When asked about the restaurant that will be moving into Purbeck Pottery, Philip said it would be "really good for Poole, Poole Quay and the building".
If they do what they said they would do to the building, then it should actually benefit it amazingly. We wanted to do something similar to what they want to do but in 1976 the funds weren't there to do it.
"They are a very good quality restaurant and I hope they do well, and I think they will do well for Poole as well."