Green Party Councillor Simon Bull has said today there is "no way to know" if the marine mammals that have been washing up are a direct result of the recent installation of the oil rig, but the fact there has been such a surge in the last month is "almost too much of a coincidence".
This comes after a third animal, a porpoise, was reported to have washed up dead by wildlife charity DWT (Dorset Wildlife Trust) – following the seal and dolphin that were found on beaches around Bournemouth earlier this month.
The oil rig, installed on the first weekend of February, was thought to not be much of an environmental threat according to the government regulator OPRED.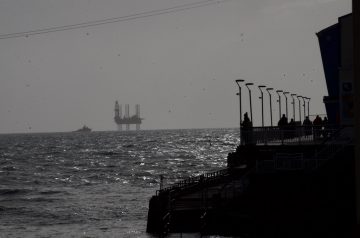 David Jones, founder of  marine charity Just One Ocean, disagrees.
"Inevitably the act of drilling will have an impact on the sea bed and the benthic species." He explained.
"Given that the increase in marine life washing ashore coincides with the arrival of the rig it would be naïve to say they are not related, but it is notably also a long way from conclusive evidence."
Although it is not unheard of for marine animals such as these to be washing up at this time of year, this is thought to be an unusually high number in such a short space of time, which has led to the speculation that it could be linked to the rig.
Blair Crawford, councillor for West Southbourne, said that local councillors had been in contact with MP's, as they were not properly consulted about the oil rigs arrival.
"The local councils were not asked for their input in the decision to install this rig" he said.
"My ward is seaward facing, so obviously I wasn't very happy with it being installed, even if it is temporary."
"However, we were assured it was safe, so a link between the rig and the deaths of the animals should be independently reviewed."
There can be no way to say for certain at this time that there is a conclusive link between the Corallian oil rig and the apparent increase. However, now that an extension has been granted to the company to continue to drill for longer than the originally agreed three weeks, there is uncertainty among wildlife experts about how the marine eco-systems around the south coast could be affected.