Greg Andrew has a passion for protecting the environment. President of the permaculture society during his time at university, he he graduated last year with a degree in Ecology and Wildlife conservation. He envisions a better future, where food is chemical free and veg is tracible to the place it was grown. He wants this option not only for the students of Bournemouth university – his current project – but eventually for this to be the norm his young son grows up with.
Greg founded The Green Loop, an initiative run by young people who love to grow their own food. He was granted an allotment and received funding from NUS 'student eats' campaign, and within the year it was a reality.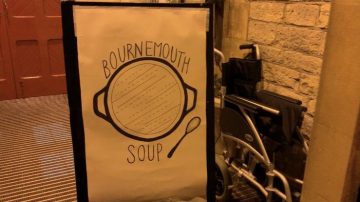 The aim is to get sustainable, environmentally friendly and affordable vegetarian and vegan food into the university. And now, after the Bournemouth soup event last week, they're over £500 closer to that goal.
For Greg, the money is paramount to getting where they want to be.
"Two years ago  I realised there was other students who were interested in growing their own food, but didn't necessarily have the space or resources." Greg explained.
"We decided that we needed a space to grow good organic veg with no chemicals or pesticides, and we were granted some allotment space near the university."
That's when they got the backing from the NUS, and now the soup event, and it has changed everything for them.
"Some students are living on as little as £4.00 per day, so to have the healthy food being sold in the university cost so much is preventing a lot of students from eating well, which is so important."
"The money we won from Bournemouth soup will go towards a bike and bike trailer, so we can transport what we have grown from our allotment to the uni, whilst still being environmentally friendly."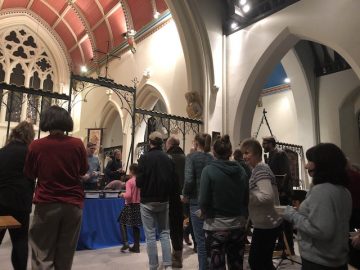 Bournemouth Soup was this time round held at St Johns church in Winton, and it aims to raise money for projects that will benefit the local community.
Attendees pay a suggested donation of £5.00 to watch four different ventures present their ideas, and explain what they would do with the money if they were to win.
Guests vote, and the winning initiative is then awarded all the money that was collected that evening.
The sense of community at the event was warming, as guests were sat at large long tables in close quarters with perfect strangers, and encouraged to chat and make friends.
With a record £525 raised this time, and four inspiring projects convincing us why they deserved to win, the stakes were high and there was debate amongst those in attendance of who deserved their vote.
But Greg, along with fellow Green Loop member Jake Hill, presented confidently, and the passion and drive to achieve their goal was evident in the way they addressed the crowd, and they were awarded the collected cash.
The money raised was amazing, and the difference it can make to the winners undeniable, but the real merit in this evening was in the sense of community and friendship it provoked within Winton.
In a town with such a mixture of settled families, students who are only there for a short time, and elderly residents who have lived there all their lives, a chance to bring everybody together is rare, yet had such a positive impact for all involved.
Hear what a first time attendee of Bournemouth Soup thought of the event here: