All across the United Kingdom, there are empty shops on the high-street, Bournemouth is another town which has a high-street with vacant shops.
This year there have been closures from Marks & Spencer, New Look and other companies have gone into administration.
Smaller areas, such as Winton high-street are busy and have managed to remain successful during the recent store closures in Bournemouth.
Hellen Ohwofasa, 38, owns an eyelash bar in Winton called 3D Pro Lashes, which she has owned for 10 years.
Mrs Ohwofasa started off as a general beautician who didn't specialise in anything, but after noticing a trend in eyelash extensions she decided to specialise her skills on eyelashes.
The salon owner from Winton said: "I Realised looking back at trends it always came down to lashes, so I started doing research on the best lashes, that is what really helped me"
A business in Winton high-street suggests the key to surviving is "Knowledge" and "Having a product, where you can actually educate your clients."
According to Globaldata the UK's health and beauty market are set to reach £26.7 billion by 2022. Just along Wimborne Road, there are seven beauty salons, which provide similar services as 3D Pro Lashes. Hellen Ohwofasa has her own line of products, which has helped her become a niche brand.
The salon owner said: "The number one thing that makes us stand out the most that we use our own products on clients and that's something you rarely find within the industry."
Area manager of The Trussell Trust in Dorset, Mary Seaton, 53, addressed her concerns about there being too many charity shops on the high-street and not enough local businesses. Mary Seaton has been an area manager for eight years.
Mrs Seaton says: "There has been a change on the high-street, I think it's all the online shopping that's caused the main problems for the general shops."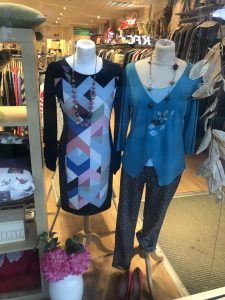 Wimborne Road, is home to 10 charity shops, all within close proximity of each other.
Mrs Seaton says: "There hasn't been an increase in shopping in the last couple of years, we're seeing less sales than normal especially over the last twelve months."
Mrs Seaton said: "The Trussell Trust maximises their sales in order to survive on the high-street. We offer a lot of affordable items to ensure we get repeat customers such as students and people on low benefits."
Partners Dawn Standeley, 33, and Will Stevens, 31, own art cafe Wistmans located on Wimborne Road. The cafe showcases different artwork some curated by the owner Will Stevens himself and work from local residents and students from the Arts University Bournemouth.  Wistmans opened two years ago after the owners decided they didn't like their day jobs.
Miss Standeley said: "I think we've been successful because other coffee shops try to emulate Starbucks or Costa, but we're different and we have great customers who we know and they know us."
Miss Standeley and Mr Stevens, hope to expand their business after the next three years.
Miss Standeley said: "We're lucky to be dong so well, three more years we will evaluate where we are and possibly open another cafe."
"She added: "We get some of our revenue from the artwork my partner sells hung around the cafe"
All of these businesses and the charity shop are located on Wimborne Road, Bournemouth and are open up to six days a week.