Paul Tregunna and James 'Monty' McPhee scrambled from their trenches as extras in the World War One film.
The pair were "over the moon" to hear it received 10 Oscar nominations, including Best Picture and Cinematography.
It's rival films include 'Joker', which was nominated for 11 and 'Once Upon A Time In Hollywood' which received 10 nominations.
The two students, who both study Multi-Media Journalism at Bournemouth University, auditioned for the part after discovering the role on Facebook.
Paul said: "It is the coolest thing I have ever done and it is something I will take with me forever.
"I might even put in my Twitter bio 'featured in a film nominated for 10 Oscars'."
The film, co-written and produced by Sam Mendes, stars Colin Firth, Benedict Cumberbatch and George MacKay. It tells the story of two soldiers who attempt to avert a disaster for British troops on the Western Front.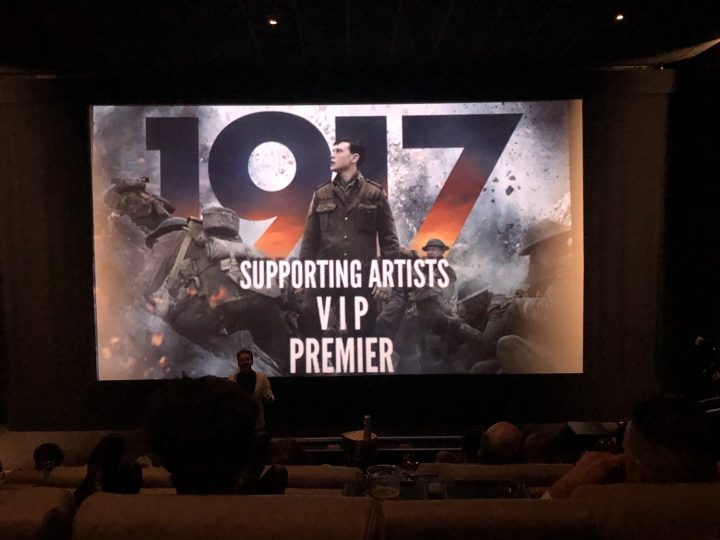 Castings for the films extras took place at Salisbury City Hall earlier this year. The students were both successful and began filming in the summer.
Monty expressed his admiration for the film, saying, "It was such an amazing experience, the actors may forget the little things, but for me it is one of the best things I have ever done."
Oscar nominations were released from 1:18 GMT today.
'1917' was nominated for Sound Mixing, Sound Editing, Original Score, Best Production, Cinematography, Visual Effects, Make up and Hair Styling, Original Screen Play, Directing (Sam Mendes), Best Picture.
The boys celebrated with fellow students when hearing the news, and said they were proud to be a part of a film nominated for such prestigious awards.
BUzz Showbiz Reporter, Louisa Moth, announced the news to the pair at the time the nominations were revealed.
Listen to the excitement unravel at 4pm on the Buzz News Website.
More from this story