Marley Keen's father has spoken to us about his son's incredible 10-mile cycle to raise money for wildlife affected by bushfires in Australia. 
The four-year-old, who plans to cycle 10 miles this weekend with his Dad and Grandad to raise money for the "koalas and the kangaroos," has raised almost 10 times his original target.
During an interview with BUzz News, Marley asked his Dad Ben Keen why he was so proud of him.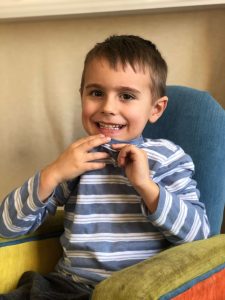 He said: "I'm proud of you for everything that you do, but I'm especially proud of you for the bike ride that you're doing and all the money you are raising to help the wildlife in Australia."
When asked for his reaction about Marley's idea to raise money for Australia, he said: "We were very proud of him for wanting to do it."
Looking at his son, he continued: "You, Marley, are a very special child, because you love wildlife and you love nature, and wanting to help nature is a really important thing to do.
"For you to want to do that yourself, is absolutely brilliant.
"We weren't expecting you to raise so much money!"
Marley's current cycle record is eight miles, but he is planning to beat it this weekend.
So far he has raised over £900, smashing his original £100 target.
Since they have raised above their initial target, they now plan to donate half to Wire (Wildlife Information, Rescue and Education Service Inc), and half to another, smaller sanctuary.
When asked how much money Marley would like to raise in his dreams, he said £3,000.
He was even willing to cycle an extra mile (totalling 11 miles!) to raise it.
Finishing the interview, Marley said: "I really do like cycling with my Daddy."
You can donate to Marley's fund here: https://bit.ly/37g3FkU