The full extent of Bournemouth's worrying shop closure problem can be revealed today by BUzz.
In an exclusive investigation, BUzz found there are now 58 empty shop units in the town centre.
In an area from the Triangle to the Lansdowne Roundabout, the vacant units include cafes, hairdressers and clothes shops.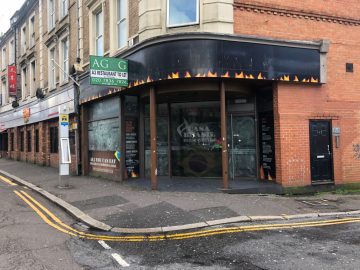 In 2019, the UK High Street witnessed the collapse of big brands such as Mothercare, Thomas Cook and Links of London.
And last year there were a total of 143,128 retail jobs lost and 16,073 stores closed according to the Centre for Retail Research (CRR).
CRR claim the retail crisis is caused by high costs, low profitability, and losing sales to online shopping.
Furthermore CRR expect that consumer spending will be hit in 2020 as growth may slow down following Brexit.
Now, less than a month into 2020, the Bournemouth-based department store Beales has collapsed into administration, and has put roughly 1,300 jobs at risk.
The changing Bournemouth high street: a picture gallery that shows the 58 closed premises in the town centre.
All photos taken by K-Lee Heckford.
Buzz News spoke to James of Espresso Kitchen about the recent closures of shops in Bournemouth.
We spoke to some independent shop owners on the high street to see what they think about empty shops.
Kieron Clarke owner of ashes menswear said: "The trouble is when you have lots of empty shops it doesn't bring very many people to town. What we want is lots and lots of people coming to town that we don't know so we can increase our business."
"The trouble with online is that you have only got brands you have heard of, there are so many brands out there that you've not heard of, because there not known the big boys online don't want to do them."
"What independents do is we take on brands that no one has heard of, our regular customers come in and we show them that brand. We show them how good that brand is and that brand becomes popular after a while and that's how these new brands get built up."
Alan Rowett owner of the vault said: "I think they're very important (independent shops) they can offer something different that the big chains can't. You've got the same brands wherever you go."
"A little independent shop will source something different.We'll stock things here at the record shop that HMV won't stock"
Below is an interactive map detailing all of the shop closures in Bournemouth: