After years of fundraising, work is due to start on brand new community hub in Bourne Valley.
Local community groups have worked with BCP Council to build a new centre in the heart of the community.
The Bourne Estate currently has a small centre, a play school and run down park.
Project Manager, Debbie Dixon said this project is "long overdue" for the community.
She added: "The local community feel as though they have been left and there really aren't any facilities in that area.
"They have been asking for this kind of facility for very many years."
The project has an estimated cost of £2 million and construction is due to begin in February 2020.
Public consultations in the area and fundraising efforts for this project started in 2015.
The Bourne Community Group worked with Poole Communities Trust to secure funding for this project.
In addition to this local group Big Bourne Local, who were given a £1 million lottery grant, have also given £550,000 to this community project.
Bourne Valley has a total of 5,198 residents in 2,049 households, according to the 2011 census.
Analysis by Index of Multiple Deprivation shows that Alderney and Bourne Valley were in the most deprived 10% nationally.
According to BCP Council, levels of deprivation are measured in various areas, which are weighted individually, they include: income (22.5%); employment (22.5%); health (13.5%); education (13.5%); living environment (9.3%); crime (9.3%); barriers to Housing and Services (9.3%).
Ms Dixon said: "In this area people are more likely to be suffering from health issues and disabilities.
"They are likely to do less well at school and to have difficulty in securing employment."
Services at the new community hub
This brand new community centre is being built to help support people in the area as well as give advice.
Ms Dixon explained: "There will be services such as CAB [Citizen's Advice Bournemouth] providing money advice, various health services, a pre-school to help parents, youth activities every evening and a community café so people could meet and give each other support."
Here is what people in Bourne Valley can expect from these plans: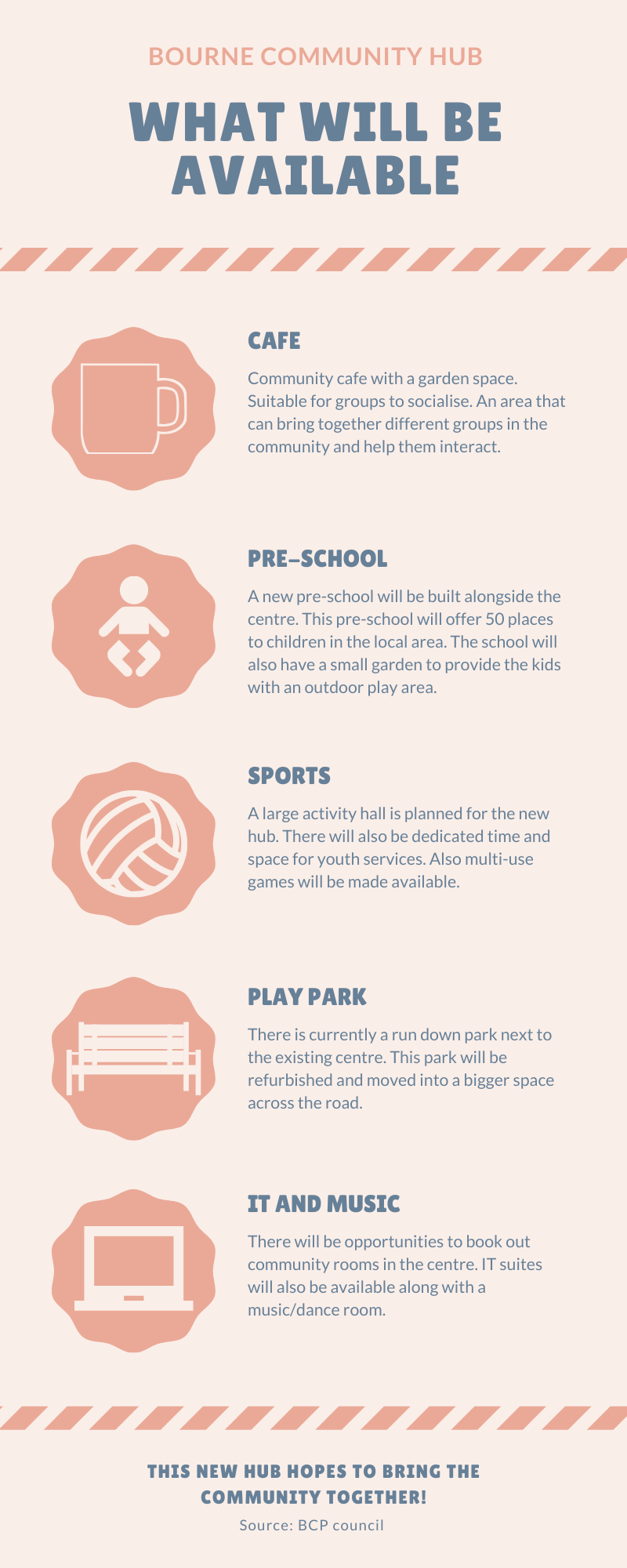 Tony Trent, Alderney and Bourne Valley ward councillor, said: "The building itself will help but the building itself isn't all that's needed to make things happen."
Mr Trent explained he attended meetings regarding these plans back in 2014.
He was surprised it took so long to start this project and felt the Borough of Poole Council dragged their feet.
Mr Trent added: "I think it would be helpful to have somewhere where the young people in the area would have a fresh new hub rather than one that is falling apart.
"I think there would be a feeling that someone cares and it trying to do something."
He believes this is a good start for the community but summarised: "There is a lot of work to do to make it work but I think it will be a major step in the right direction."
Refurbished play park
Along with the new hub there will also be a fully refurbished play park across the road.
A big thank you to the Poole Communities Trust who have secured a grant from the Veolia Environmental Trust to relocate and install a new play area at Bourne in Poole ?? Work starts in February, with the play area opening in the spring.
Find out more➡️ https://t.co/YHr8oKnZud pic.twitter.com/IGLry4g6qH

— BCP Council (@BCPCouncil) January 23, 2020
This 3D sketch has been created to show people what the intended hub will look like:
#BourneValley in #Poole is getting a new community hub and park ? This project will cost £2 million. What are your thoughts on this new project? Do you think it will benefit the community? ?

— Kelsey Ann Journo (@KelseyAnnJourno) January 31, 2020