Bournemouth's Chineside cafe has experienced the harsh impacts of the recent stormy weather around the town.
Winds of up to 80mph are creating sandstorms which blow furiously blow alongshore.
After storms Brendan, Ciara, Dennis and now Ellen, the new decade has already has its fair share of grim weather. Multiple flood warnings and public transport cancellations have impacted the area, forcing tourism numbers to drop.
This means that businesses near Bournemouth's usually touristy beaches can suffer as a result, with less people visiting and revenue made.
Situated on the seafront between Bournemouth Pier and Poole Harbour, the Chineside cafe has been open for almost five years.
Liz Howard works at the cafe. She said that the weather has affected them: "Customer wise it does impact us. They don't like the wet weather or the windy weather."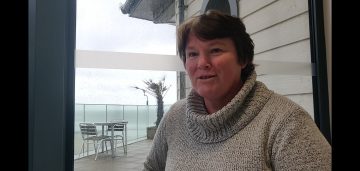 Ms Howard believes the cafe's lifespan to be major player in how the cafe can still afford to stay open, despite the recent harsh conditions. She said that the customer base they have built up in this time keeps them 'ticking over', but also comments that they would like more visitors at the weekends.
See video for full interview with Ms Howard.