Bournemouth FC improved on recent poor form on Tuesday night, as they defeated Amesbury Town 2-0.
An own goal and a Martin Warren header were enough to end the small Poppies winless streak and get them a second league win of the season.
The previous game had seen the Poppies on the end of an 8-0 thrashing at Lymington, so they were keen to bounce back from that result.
They were quick off the blocks and took the lead in just the fourth minute.
Jonathan Efedje got on to the end of a through ball before Amesbury goalkeeper Felix Davies, and his cut back hit the knee of an opposing defender before going into the net.
The Blues almost conceded a second own goal just a minute later. A attempted clearance ricocheted off a another defender and almost crossed the line before being hacked away.
Amesbury did almost get an equaliser soon after as Osamu Allman ran through on goal. Thankfully, Sam Jones was alert to deny the striker.
It had been a breathless opening ten minutes, and Amesbury did slowly grow into the game after that.
Luke Greenway had a shot deflected wide, while Ant Croucher forced Jones into a save with his 30-yard effort.
Warren went close when heading over from a free-kick, whilst Adam Holloway hit a thunderous effort just over the crossbar after having acres of space to run in on goal.
Owen Holloway then curled into the arms of Jones, before Amesbury captain Chris Morris headed narrowly over from a corner.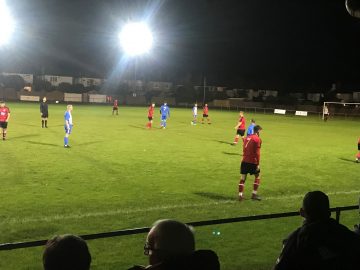 Bournemouth ended out the half with Liam House stinging the palms of Davies, whilst Allman curled over from the left-hand side.
Amesbury had threatened on numerous occasions in the first half, and Poppies needed to reassert themselves in the game, and thankfully they did five minutes into the second half.
A superb corner was whipped on to the head of Warren who crashed in an effort off the crossbar.
It was the two goal cushion that they needed, and the following ten minutes should have yielded more goals for them.
Davies was on top form to stop a Kinge-Phillips volley and a powerful shot from House.
Amesbury then pressed for a way back in, as Greenway shot wide from an ambitious 35 yards and Lewis Harey brilliantly blocked two sharp efforts from Adam Holloway.
The rest of the game passed with relatively little incident, and Bournemouth were able to put Saturday's performance against Lymington behind them.
A victory for Leo Cabeleira's men has seen them move into the top half of the table, with two wins, two draws and three defeats.
The Poppies next face fourth placed Blackfield & Langley Saturday, who gained an impressive 5-0 win over Bashley Tuesday.
Bournemouth XI: Jones, Seymour, Raney, Nicholls (C), L.Harvey, J.Harvey, Kinge-Phillips, Wilson (Martens), Warren, House (Carvalho), Efedje (Matthews)
Subs: Kowalczyk, Martens, Carvalho, Matthews, Proudley