Bournemouth unfortunately fell to a 8-0 defeat away to Lymington, as they extended their winless streak to five games.
A brace from Sam House, as well as efforts from Owen Fee and Steven Flynn saw the Linnets lead 4-0 at half-time.
Poppies weren't able to keep the scoreline down in the second half, as a further two efforts from House, another strike from Free and a goal from substitute Conrad Chruchill saw it finish 8-0.
Lymington had won their first three league games of the season, and set out with intent.
Within just ten seconds from kick-off they had taken the lead. Fee struck an effort that found its was beyond the reach of Kacper Kowalczyk, and already the odds were against the Poppies.
The home side had to wait another 22 minutes for their second. A clearance had been blocked, and Flynn jumped higher than Kowalczyk for the looping ball and headed in.
Kowalczyk then redeemed himself saving two efforts from Dom Falco and a long-range Nathan Hurst shot.
However, a third goal came soon enough as House fired a penalty under the Poppies goalkeeper.
Bournemouth then finally fashioned their first proper chance of the match as Jack Kinge-Phillips shot wide across goal after the ball had been flicked onto him.
Just before half-time poor defending from Poppies led to Lymington's fourth. Flynn intercepted a pass on the edge of the area, and laid it back to House to roll into the bottom corner.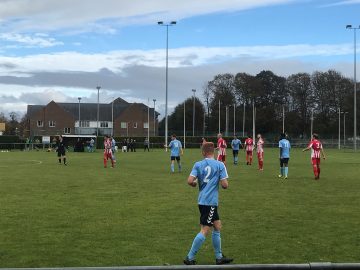 Misplaced passes were often the downfall of Bournemouth's attacking moves, and this carried on into the second half.
Aside from Lewis Harvey heading over from a free-kick on 48 minutes, the Poppies barely created a threat.
Fee got his second in the 59th minute after waltzing into the penalty area and placing the ball past Kowalczyk.
Lymington then got a flurry of goals towards the end of the game, as firstly Churchill slotted home after a superb block from Mac Raney fell back to him.
House then applied a simple finish to a cut-back just a few minutes later, before finally rounding off the scoring with another penalty.
It had been an abject performance from Bournemouth, with much needing improvement ahead of Tuesday night's home game against Amesbury Town.
Bournemouth XI: Kowalcyzk, Mathews, Raney, Chambers, L.Harvey, Marteens (J.Harvey), Kinge-Phillips (House), Nicholls (C) (Carvalho), Warren, Wilson, Efedje
Subs: Heustice, House, Carvalho, J.Harvey