The hospice was named after Mr Wise's friend Julia Perks, a paediatric nurse who wanted to support families struggling with terminally ill children. She died in 1997 from cancer.
Julia's House began its journey by proving care to children in need in their own homes.
In 2006, Julia's House in Corfe Mullen went from being a family home to becoming a hospice, where children were free to play and relax.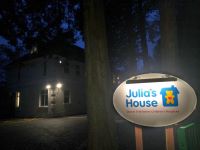 At that time it was a place for up to 10 children.
In 2008 Micheal Wise helped the hospice raise £15.000, and from that moment Julia's House keeps getting help from the government and the community.
Julia Perks' daughter Natasha Valentine began volunteering in 2013 for one of Julia's House charity shops in Creekmoor.
She later became the manager of the Julia's House charity shop in Broadstone in 2017.
The pie chart made by Rachele Piras shows the income of Julia's House up until now and how their money is generated.
The hospice receives the majority of their help (95%) by the people through clothes donations, volunteering or by helping raise money.
The remaining 5% is given by the government.
More on this topic: