The head of a group representing 140,000 British businesses has warned that the retail and hospitality sectors are being "absolutely shafted" as the country enters its third national coronavirus lockdown.
Professor Chris Turner, chief executive officer of British Business Improvement Districts, is concerned that "retail and hospitality are being wiped out" by restrictions which have shuttered Britain's non-essential shops.
"Lockdown has been very difficult for retail", Professor Turner said.
"There's a growing separation between 'haves' and 'have nots'. It has been a hard time for sole traders. A lot of them cannot furlough themselves because they own their company. They are entrepreneurial people who have lifted their game, but the situation is really, really bad."
Professor Turner's comments come as new figures revealed a 7.1% drop in consumer spending in 2020 – a hammer-blow for a High Street which was already encountering difficulties before the pandemic arrived.
High Street footfall has fallen by a tenth in the last decade.
Professor Turner suggested that the only way to avert the decline in British town centres is to turn them back into the community hubs they once were.
"What we need is the libraries back, the health centres back, and old-fashioned anchor tenants. We need more residences rather than huge department stores", he said.
The loss of so-called 'anchor stores' – major retailers whose large customer numbers provide valuable passing trade for smaller shops – has been an additional bitter blow for crumbling town centres.
The collapse of department store giant Debenhams in 2020, precipitated by coronavirus restrictions, has left dozens of huge retail premises standing empty nationwide.
Other stalwart 'anchor tenants' including Marks & Spencer and John Lewis have sounded profitability warnings.
But despite the current gloom, economist Gary Stevenson believes that there is some cause to be optimistic for the High Street in the medium term – although he shares Professor Turner's concerns for the hospitality sector, which has shed 20% of its workforce in the past year alone.
"A lot of people, including a lot of relatively middle-class people, have accumulated savings during this crisis. That could lead to something of a mini-boom if the virus itself is resolved quickly, since so many people are sitting on relatively large amounts of cash", he said.
"Of course, the flip side of that is that many shops, pubs and bars are sitting on big losses for this period, and will struggle to recover."
Mr Stevenson, who retired as a millionaire at the age of 27 after becoming Citibank's most profitable trader worldwide in 2011, is concerned about the government strategy of quantitative easing in the crisis – which he says could prompt inflationary pain for consumers and shops alike in the long-term.
"I don't think printing to support government debts on a large scale is a sensible or sustainable long-term solution", he said.
"Although [quantitative easing] could be, and has been, a very useful stopgap to help us deal with these times of acute crisis, if overdone, it could cause big problems with increased inequality and housing unaffordability."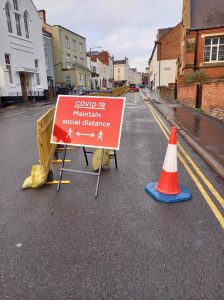 "I definitely think that a big jump in inflation is possible and maybe even probable during a post-Covid "mini-boom", as people go out and spend their big cash-piles after a year of not being able to spend", he added.
"A jump in inflation will be a bitter pill to swallow for people who have lost jobs, or are on frozen or reduced wages."
Away from the ailing town centres, other businesses have had differing experiences in the pandemic – including some encouraging signs of resilience.
Stuart Williams, former President of Topps Tiles, the UK's biggest tile retailer, says that the "good" government support for businesses was vital in mitigating the impact of the crisis at the Leicestershire-based firm.
"The impact has been weird, really. A severe impact at the beginning", he said.
"Most of the staff were furloughed, there was a 'sale and lease back' done on the warehouse and offices. There were government loans and a rates holiday… so the business got through that complete shutdown period.
"The internet provided important support. Click-and-collect started at a pretty early stage. I think the internet sales increased by a factor of five during that time."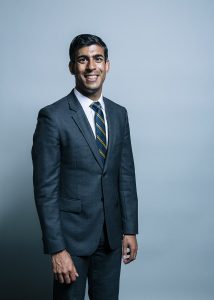 Mr Williams, who remains a significant shareholder in Topps Tiles after retiring as President in 2012, added that the business rates holiday introduced by Chancellor Rishi Sunak for all leisure, retail and hospitality businesses is "making a big difference" at his firm.
A smaller company also managing to withstand the choppy economic conditions is MoonComputers, a small I.T. business support firm founded in Northampton by local entrepreneur Harry Bird.
"The pandemic has caused a general downturn in sales and profit, as we and our customers adapt to the new working circumstances. If the government had not put a structure in place to address the pandemic, the business world would be in crisis and the effect on my business would have been far worse", Mr Bird said.
"I think this pandemic is much like a war – you don't know where the enemy is going to strike next and by how much, so it's impossible to forecast accurately where and what will happen."
Indeed, on January 1st, the Office for Budget Responsibility downgraded its 2021 growth prediction for the UK economy from 5.5% to 4.3%, due to the launch of tougher coronavirus restrictions. With a third national lockdown since announced, expectations of a much-needed recovery this year for retail and hospitality are already looking under threat.
Yet there are still grounds for optimism, according to Professor Turner – in the form of vaccine announcements from Pfizer-BionTech and Oxford-AstraZeneca.
"They are excited by this prospect", he says.
"There is now a sense of hope."
To read the full print version of this article, click here
Follow the project on Twitter: @SideOfCoin_MMP
Explore more from 'Can English Businesses Weather This Storm'...